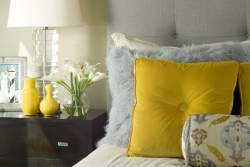 Naples, FL, October 30, 2012 --(
PR.com
)-- Beasley & Henley Interior Design is pleased to have been selected by Stock Development to create the exclusive interiors for The Regency Manor model home in the Buonasera neighborhood of Mediterra.
This elegant courtyard home offers 4-bedroom/4.5 bath and a luxuriously large, outdoor living/dining area.
Beasley & Henley's design of the Regency Manor will appeal to the sophisticated, yet casual residents of Naples, with interiors created for both comfort and entertaining. The home's barefoot elegance is conceived with comfort in mind, and elegant finishes and textures throughout. Soft shades of blue and grey, coupled with tans and splashes of marigold, provide the backdrop for a luxurious and uncomplicated lifestyle. Furnishings are plush and refined, and the artwork reflects a notable mix of modern and old world oils that combined, create a collected feel for its residents. Painted cabinets bring the interiors into the latest fashions of transitional design, keeping the overall palette fresh and exciting.
In addition to the interior furnishings and finishes, Beasley & Henley found improvements that could be made in the floor plan itself. The design firm is regularly called upon to assist with the floor plans improvements of custom homes and, with interior architectural designers on staff Stock was able to take advantage of the designers' deep knowledge to move ahead.
The Regency Manor in Buonasera will be completed in January 2013.
For more information on Beasley & Henley Interior Design or our models, please reach us at 239-774-1005. You can also reach us via email at
Stephanie@BeasleyandHenley.com
. Beasley & Henley Interior Design specialties include Luxury Models, Luxury Homes and Clubhouse/Common areas throughout the United States and abroad.