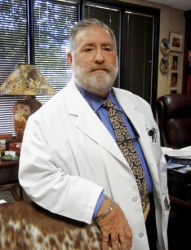 Dallas, TX, November 09, 2012 --(
PR.com
)-- Dr. Dennis Birenbaum, head of the Texas Hematology / Oncology Centers PA, and an MD Anderson trained cancer physician, is an outspoken advocate of the delaying and even the prevention of certain cancers through smarter lifestyle and eating choices.
Dr. Birenhaum states, "If you are like most Americans you crave your sweetened sodas, donuts, fries, hot dogs and the little crispy burned edges of your bacon or steaks. It's tough to give up what you like. These five foods are not selected arbitrarily. Many experts like myself believe that these five foods are in the top tier of potentially cancer causing snacks and meals as well as contributing to other health related issues. The general mantra is to eat healthy, but my philosophy is to be specific and start by not eating unhealthy. Before you make the decision of what to eat, you need to make the much harder commitment of what not to eat. So, my advice is to target the five items: sodas, donuts, fries, hot dogs and burned meat and make sure you avoid them all at least one day each week."
Many people dedicated to improved nutrition are in sync with Dr. Birenbaum's position. A healthy diet that can potentially lower a person's risk for certain cancers can actually start with what you choose not to eat and many people just don't know where to start. The idea is to keep the first step simple and commit to limit the five common foods listed. Mentioned in internet commentaries, these and other similar foods have published ingredients or cooking processes that involve chemicals proven to contribute to a higher risk of cancer.
Dr. Dennis Birenbaum concluded, "Although cancer is caused by many factors, including heredity and the environment, I encourage my patients to take advantage of the things they can control. So set a realistic eating goal as you move toward a much healthier lifestyle diet. By slowing down the cumulative effects of eating certain foods patients can see that the health benefits are real."
Dr. Birenbaum can also be heard on his radio show called "A Short Walk Through a Long Journey" broadcast each Friday from 2pm – 3pm CST on KAAM Radio AM 770 in Dallas, Texas. Callers can dial 1-877-272-5226 Previously aired shows can be heard on-line by going to Dr. Birenbaum's web site www.thocpa.com .
For More Information Contact:
Tim Pugiese – Media Relations
tpugliese@commideas.com
214-534-1658
More next two pages
Dr. Dennis Birenbaum brings cancer topics to the forefront on weekly Cancer Update radio show.
Dr. Dennis Birenbaum
THOC,PA dba Texas Hematology / Oncology Centers Phone: 469-453-5500
An MD Anderson trained physician founded the Arlington Cancer Treatment Center in 1981. He founded the Texas Hematology Center, PA in 1997. He was the founder, Medical Director, and CEO of Patients Comprehensive Cancer Center (2001) & McKinney Regional Cancer Center (2007). He is the author of the various articles pertaining to Hematology and Oncology disorders. His private practice in Hematology/Oncology has been in the Dallas/Fort Worth area since 1979.
Undergraduate:
Southern Methodist University, Dallas, Texas
Medical OncologyMedical School:
MD, National University of Mexico, Guadalajara, Jaliso, Mexico
Internship/Residency:
Medicine, Henry Ford Hospital, Detroit, Michigan Medicine, Tulane Medical Center, New Orleans, Louisiana
Fellowship:
Medical Oncology, University of Texas MD Anderson Cancer Center, Houston, Texas Medical Hematology, University of Texas MD Anderson Cancer Center, Houston, Texas(also served one year as Clinical Associate Medical Oncology/Faculty Assistant)
Other Professional:
Founder, Medical Director, and CEO of Patients' Comprehensive Cancer Care Center and Texas Hematology Oncology Center, PA
Author of various articles dealing with Hematology and Oncology disorders
Private practice in Hematology/Oncology in the Dallas/Ft. Worth area since 1979
Offices:
Dallas (Corporate Office) 10 Medical Parkway, Plaza III, Ste. 106 Dallas, Texas 75234
Carrollton 4333 N. Josey Lane, Plaza II, Ste. 103, Carrollton, Texas 75010
McKinney 4541 Medical Center Drive, McKinney, Texas 75069
Areas of Clinical Interests:
Gastrointestinal Tumors
Hepatic Artery Perfusion
Melanoma, Sarcoma
Breast Cancer
Bloodless Medicine
Hematologic Disorders, including Myeloma
Solid Tumor Cancer, including Lung, Ovarian, Male/Female Reproductive Cancer
Credentialed at Multiple Local Hospitals:
Baylor Carrollton
Centennial Medical Center
Medical Center of Arlington
Medical Center of McKinney
Methodist Richardson Medical Center
Baylor Plano
Dallas Medical Center
Specialty Hospital
Forrest Park Medical Center
Personal Interests:
Born and raised in Dallas, TX
Father of two sons
Owns five dogs
Loves traveling and golf
Avid collector of arts and antiques