"Progenitor: Palak and the Sky Gods" is the Runner-Up for Best Fantasy/Sci-Fi in the 2012 USA Book Awards
Patrick T. German's debut novel is named the runner-up for best new Fantasy/Science Fiction book in the 2012 USA Book Awards.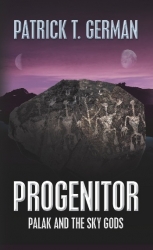 York, PA, November 20, 2012 --(
PR.com
)-- "Progenitor: Palak and the Sky Gods" the debut novel by Patrick T. German, is the runner up for best Fantasy/Sci-Fi in the 2012 USA Book Awards.
In "Progenitor: Palak and the Sky Gods, (Vol. I)" politics, economics, social and cultural mores, and the rules and strategies of war are all in play. The sci-fi first centers on Planet 762, Medias, where scarce resources necessary for survival are fought for by varied inhabitants of the planet, the solar system and the galaxy itself. On Medias, the humanoid clans and tribes struggle for survival against each other and against the wild animal life of their territories. Some tribes thrive and succeed, having been touched by Sky Gods, while others fail to progress and end up mired in jealousy and anger. The fate of Medias has already been determined by The Contest. Yet readers will still find themselves asking, can any of the clan leaders or animals rise up to conquer the godlike adversaries who are crossing the galaxy to stake their claims?
Influenced by Stephen King, Dean Koontz and James Patterson, "Progenitor: Palak and the Sky Gods" offers an exciting ride with unexpected twists and turns and a surprising sense of humor.
ForWard Reviews calls Progenitor a "fun read...with rewards aplenty," and states, "...readers will find that most delightful of all characters: the villain they love to hate!"
Kirkus Reviews states, "The numerous action-packed set pieces should please sci-fi aficionados. Full of captivating characters and well-staged battles that should keep readers engaged and make them look forward to further Progenitor tales."
One Amazon reader described "Progenitor: Palak and the Sky Gods" as, "Intriguing! Captivating! You won't be able to put it down, worse yet, you'll have to wait to read the other two books of the trilogy." Another Amazon reader offered the following, "This book reads like a movie playing, mostly propelled by action and motivation, not weighed down by too many layers of description. The creatures (both humanoid and animal) are cool and fun to see moving around the landscape of Medias. Palak, the title character, is not the only special character, which makes the story very interesting."
"Progenitor: Palak and the Sky Gods" is available in trade paperback through most online retailers including Amazon and Barnes and Noble for $12.99 MSRP and through the Kindle network as an e-book for $4.99.
For more information on Patrick T. German and his books, please go to
www.patrickgerman.com
.
287 pages, 8 x 5 x 0.8" paperback
ISBN: 1-4775-8367-X
$12.99 from Amazon
www.patrickgerman.com
Contact
Author Patrick T. German
Monique Gagnon German
858-229-7409
www.patrickgerman.com

Contact