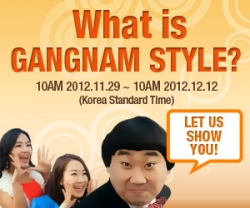 Los Angeles, CA, December 04, 2012 --(
PR.com
)-- In response to music video sensation "Gangnam Style," a new video by the Seoul Tourism Organization - with an accent firmly on fun - takes a closer look at the place behind the song (
http://youtu.be/QqPGAT9UcLw
). The video highlights the popular attractions and world-class meetings infrastructure of Gangnam, a major business and tourism district of Southern Seoul. The video went live on November 29th, and "Gangnam Style" itself will play an integral part of the video.
The video will be released along with a social media promotion on the Facebook page of Seoul Tourism Organization's business events division (
www.facebook.com/miceseoul
). After watching the informative and fun video, event participants will be encouraged to share their thoughts on Gangnam Style – with one lucky winner receiving two round trip flights to Seoul to get a firsthand look at the place that started it all.
The Seoul Tourism Organization video began as a response to the worldwide interest in and curiosity about Gangnam. Even though PSY's hit song brought Seoul into millions of homes across the world and spawned countless parodies, news articles from major media around the world have yet to offer a comprehensive introduction to the district. Many have remarked that Gangnam Style may help bring more tourists to Seoul, but have said little else - leading those outside of Korea to ask "Just what is 'Gangnam'?"
"During our recent trip to IMEX America, we were constantly bombarded with questions such as 'What is Gangnam like? Is it really like Beverly Hills?'" said STO Seoul Convention Bureau Vice-President Maureen O'Crowley.
"Our video will dive into the most popular areas of Gangnam to explore its famous attractions and interview actual Gangnam residents and visitors. Viewers will get a closer look at the trendy and exciting life of Gangnam, and may also be surprised to learn that Gangnam has long been Seoul's powerhouse for international business and meetings," she added.
Gangnam, which literally means "South of the River," is home to Coex, the city's largest convention venue, along with many of Seoul's major business hotels such as the JW Marriott Seoul, Park Hyatt Seoul, Novotel Ambassador Gangnam, and two Inter Continentals, among others.
High-profile meetings held here in recent years include the 2010 G-20 Seoul Summit and the 2012 Seoul Nuclear Security Summit. Gangnam's meetings facilities and hotels have played a key role in helping to make the Seoul a world top-five convention city according to UIA statistics over the last two years – far ahead of original targets set by the SCB. And it is only part of the success story, with much of the heavy lifting also carried out by many four and five-star properties in Seoul's northern "Gangbuk" district.
With the popularity of "Gangnam Style", the Bureau's online marketing efforts step into a new arena, where, thanks to PSY, Seoul's global profile is bigger than ever before.
"Obviously 'Gangnam Style' wasn't designed to be a viral video, but that's exactly what it became – the ultimate viral video for Korea," said SCB PR Coordinator Alex Paik.
"We think viewers will be pleasantly surprised with what they learn in the video, and hopefully it may even convince travelers to add some Gangnam Style to their next trip," he added.