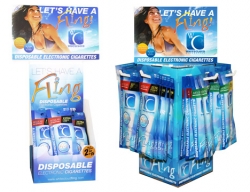 Tarpon Springs, FL, December 05, 2012 --(
PR.com
)-- "With the launch of the White Cloud's
disposable electronic cigarettes
, called The Fling, White Cloud sees an opportunity to make significant breakthroughs in several critical areas including an even lower price point for customers and distribution channel partners," says Matthew Steingraber of White Cloud Cigarettes.
White Cloud Cigarettes currently offers an attractive price point of $2.80 - $3.75 per disposable electronic cigarette to distributors, convenience stores, grocery stores, and boutique shops.
The Fling is a portable and stylish,
disposable electronic cigarette
that matches the look and feel of standard cigarettes. Additionally, The Fling features a wide variety of unique flavors and nicotine strengths. "Providing a wide array of options to customers, and our distribution channel partners, is our highest priority. Customers not only appreciate the choices, they demand it," says Steingraber.
"I have been a loyal White cloud fan for almost 2 years now, and have not touched a real cigarette since I have started. It truly has changed my life and I tell everyone I know how much I love it!" says Danielle Yarrum - a customer of White Cloud Cigarettes.
Their wholesale program is seamless, and;
-- Their disposable electronic cigarettes are equivalent to approximately 40 tobacco cigarettes.
-- Highly visible counter top displays that convert sales.
-- Display, posters, and window clings free with every order.
-- Incredible profit margins keep you competitive.