CloudAccess' Nikkhoo Honored with Lifetime Achievement in IT Award
CEO of the Security-as-a-Service leading firm CloudAccess Kevin Nikkhoo was recognized for his paradigm-challenging career accomplishments and personal contributions by Cloud Silver Lining.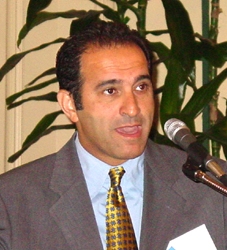 Los Angeles, CA, December 06, 2012 --(
PR.com
)-- In recognition of a forward-thinking career, innovative accomplishments and community involvement, CloudAccess, CEO and serial entrepreneur Kevin Nikkhoo was honored with a Lifetime Achievement Award in IT from the leading IT consultancy Cloud Silver Lining.
The distinguished award and $5,000 donation in his name to UNICEF was presented to Nikkhoo for a series of conceptual and technological advances in IT ranging from his early successes as a leading developer at Xerox to his current pioneering venture in the emerging cloud computing field of virtualized and integrated enterprise-class security solutions, tagged "security-as-a-service."
"I'd like to think every accomplishment and failure; every challenge and sleepless night; every step and stumble in my career, provided a significant piece of the puzzle that has positively impacted the way businesses, and more specifically IT, works."
The award, according to Cloud Silver Lining, transcends technological achievements. A significant part of the acknowledgement is based on how Nikkhoo has given back to the community and how he has helped lift up the lives of those around him.
"I have been blessed with a great deal of success, but one thing is for certain. I did not do this alone," Nikkhoo said. "Over the years I've worked with many extremely talented developers, sales people, partners, project managers, assistants; all who shared a vision, drive and commitment to changing the paradigms; to making things better. Without them I would be selling pencils on a street corner."
The honor, in its second year, is awarded to the individual who has made the most significant innovative contributions to Information Technology, either through individual accomplishment or guidance of a group. Winners are chosen from leading IT executives whose professional contributions reflect leadership and mentorship. Candidates must have influenced the industry by demonstrating a commitment to diversity and service to their profession, industry, and community.
And, as the pioneering leader of CloudAccess, Nikkhoo has led the ground breaking charge to apply Open Stack development technologies against the huge need for all companies (SMB to Fortune 500) to protect their assets against hackers, streamline and improve security processes, and better control the quickly shifting landscape of enterprise online needs. This, according to Nikkhoo is "changing the game" by making security deployments more egalitarian and increasingly effective.
Nikkhoo's paradigm challenging and changing career started more than 30 years ago. Earlier in his career, he helped develop a means for printers to talk to each other--now an industry standard. He experienced further success as the CEO of Vertex which developed a new web-based communication model for ATMs to share information with a secure central database.
About Cloud Silver Lining
Cloud Silver Lining (CSL) offers Cloud-related Professional Services, Tools and Certification to help enterprises worldwide evolve their businesses using Cloud innovation. The company's Cloud Toolkit™, Cloud Assurance™ and Dashboard Intelligence™ products provide tools to simplify Cloud implementation and management. The Xertification™ program validates products as Cloud Compatible, services as Cloud enabling, and individuals as Cloud Ambassadors. CSL is has offices in Chicago, IL, Providence, RI and the UK. More information can be found at www.cloudsilverlining.com.
Contact
CloudAccess
Scott Davis
877-550-2568
www.cloudaccess.com
Blog: cloudaccesssecurity.wordpress.com

Contact