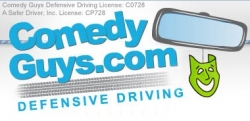 Dallas, TX, December 13, 2012 --(
PR.com
)-- Defensive driving courses are a valuable asset in Texas – they can help you get speeding tickets dismissed, discounts on auto insurance and are a great way to clean up your driving record. With Comedy Guys (
http://www.comedyguys.com
) you take these courses in a unique way – rather than approach these classes in a classic, stale fashion, they make defensive driving fun by introducing comedy into the mix.
About Comedy Guys
Comedy Guys defensive driving classes, despite being humorous, are immensely beneficial to you as a driver.
A defensive driving class can accomplish many things for you. While the most important is that you will become a safer, more informed driver, there are unexpected benefits as well – it can be used to remove a speeding ticket or other moving violation from a driving record and most auto insurance companies offer a discount to their policy holders who take a defensive driving class.
"Texas Defensive Driving Courses have to be six hours long, but that doesn't mean they have to be tedious," says the company. "Comedy Guys hires professional comedians and actors to teach its driving safety classes. We cover all the required material for a state certified course, but we make it fun."
Comedy Guys Defensive driving has live classes available in Dallas, Fort Worth, Houston and many other Texas cities... but if you prefer a more distant approach (or simply don't have the time to come in person), Comedy Guys also offers online course work on mobile devices like iPhones, iPads, Android phones and tablets. They teach through video, text and audio.
"Comedy Guys Defensive Driving has an actual office that's open five days a week," boasts the company. "Call our number and a person will answer. And we print defensive driving certificates every week day, so we can get your certificate into your hands faster than many of our competitors."
To find out more about Comedy Guys and their defensive driving courses, or even register for a course in person or online, visit their website at www.comedyguys.com.