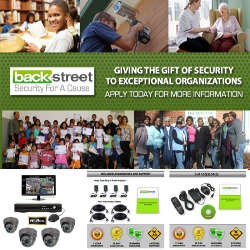 Cupertino, CA, December 18, 2012 --(
PR.com
)-- As a company spokes person stated:
"Giving back to the community is a very important aspect of being a responsible business within the community. We at Backstreet Surveillance take this responsibility very seriously. We are aware nonprofit organizations need many services and operational systems to keep them running. Our goal is to keep their donations and funding going directly to the people or groups they are designed to help; not spent on infra-structure, office systems and operational overhead. To this end, Backstreet has created our 'Security For a Cause Program.' For qualified non-profit organizations Backstreet will donate complete surveillance packages to help secure the organizations physical locations."
The company has created a website to help expedite the request for inclusion in the program.
www.SecurityForACause.com
Acceptance Qualifications into the program are:
· Must be a Registered Nonprofit organization within the United States
· Must have a physical location
· Must have an existing website or internet presence
Backstreet-surveillance.com is a national online supplier of video surveillance equipment.