The Return of "Gina Carey...The Songbird"
Gico Music's Gina Carey...The Songbird will sing her way back into our hearts on January 31st, with the release of "Gina Carey…The Songbird."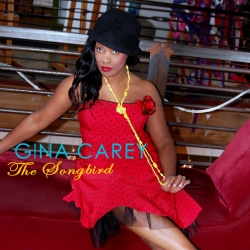 Palm Springs, CA, January 03, 2013 --(
PR.com
)-- Gico Music, along with the multitalented singer, songwriter and producer Gina Carey, are proud to announce the hugely anticipated release of "Gina Carey…The Songbird." This super smooth, soulful and funky CD is sure to capture the heart and soul of listeners worldwide.
Previously, Gina Carey...The Songbird, has enjoyed commercial success and critical acclaim aplenty, including her number one, UK album, "Melodic." "Gina Carey…The Songbird" is Gina's best album to date.
Not only does Gina Carey...The Songbird's warm, angelic, seventies soulful vibe stand out, but is a multicultural and genre-sprawling fusion of influences. From the opening bars to closing notes, Gina Carey...The Songbird is a thirteen song masterpiece.
Gina chose to be a little more experimental on Gina Carey...The Songbird. She wanted to draw inspiration from the musical influences of her formative years.
Gina's love for sound and instrumentation has allowed her the freedom to create songs without prejudice. Her unusual style of production, fusing African, Latin, jazz, soul, folk, blues & R&B has resulted in a unique and inimitable signature sound.
On November 1, 2012, the cool, jazzy and soulful single, "Love Me Too," was the first single to be released as a teaser from Gina Carey...The Songbird. "Hey Mr," "My Sunshine," "Step into My Love" and "My Hero" are the next four singles to be released nationwide.
"Hey Mr," is a hook-laden, fusion of folk, country, soul and dance music, while being playful and sassy at the same time.
"My Sunshine" is a stunning dance track, with a soulful jazzy sound and Latin twist.
"Step into My Love" has a smooth and sultry, yet mystical, mysterious and soulful vibe.
" My Hero" is a funky dance tune that gives honor and support to the role of a good man in a women's life.
Every song on Gina Carey...The Songbird is sure to inspire many to Live, Love and Laugh.
Gina attributes her drive and determination to fulfill her musical dreams to her father, "Mr. Eugene Harrison," who sadly died in March 2012. He inspired Gina, teaching her never to give up. Like Gina, he was an aspiring singer. So, "Gina Carey…The Songbird," Gina is dedicated to his memory. You can find out more about "Gina Carey… The Songbird" by visiting her official Website at
www.GinaCareyTheSongbird.Com
. This CD will be available from most online stores including CD Baby, iTunes and Amazon.
Contact
Gico Music
Lisa Falls
760-678-5815
http://www.gicomusic.com
http://www.ginacareythesongbird.com

Contact