Dr. Larry Saylor Utilizes Advanced Technology to Deliver Highly-Customized Same-Day Crowns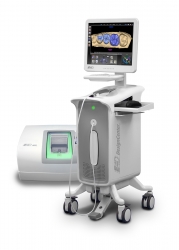 Tampa, FL, January 15, 2013 --(
PR.com
)-- Dr. Larry Saylor, an experienced
cosmetic dentist
dedicated to improving smiles in the Tampa Bay area and beyond, is pleased to offer qualified patients with highly customized crowns, fillings and veneers in just one office visit. This is made possible through the use of the E4D Dentist system by D4D Technologies, a high-tech medical device company focused on 3D digitizing applications.
"The E4D system allows cosmetic dentists like myself to scan, design and mill a restoration in about 3 hours time, reducing turnaround time by up to three weeks for traditional crown preparations," said Dr. Saylor. "This is great for those people who travel a great distance to visit their cosmetic dentist or don't have time to schedule multiple office visits."
The E4D Dentist system is a complete powder-free chairside CAD/CAM system for digital impressioning, designing and fabricating metal-free inlays, onlays, crowns, and veneers in office. This is made possible by E4D's high-speed laser, which makes a digital impression of the preparation and proximal teeth to create an interactive 3D image that is used to create a precise virtual model of the teeth in seconds. Through a wired or wireless connection, the E4D then sends designs to the Milling Center to fabricate restorations.
Traditionally, crown preparations take three-weeks to complete, during which time patients must wear a temporary crown. Further, because crowns are prepared in an outside laboratory based on impressions taken in office, cosmetic dentists have no part in actually fabricating the crown.
"The E4D system allows me to control the quality and aesthetics of the crown in-house, which is a game changer in terms of providing the patient with a customized crown that is aesthetically pleasing," said Dr. Saylor. "Currently, 70 percent of the crowns that we address in our office are prepared using the E4D machine, and that is because only 70 percent of teeth are candidates for this procedure. However, I predict that within the next five years all single crowns will be performed using this technology."
About Dr. Larry Saylor
Dr. Larry Saylor II, DMD FAGD, of Brandon, Fla. is an experienced cosmetic dentist dedicated to improving smiles in the Tampa Bay area and beyond. With years of experience in cosmetic and general dentistry, Dr. Saylor has the skills and expertise necessary to help patients achieve a natural, beautiful smile with minimal office visits. Services include sedation dentistry, pain-free dentistry, tooth whitening, implants, Invisalign and dental veneers, such as Durathin and Empress. A trusted name in cosmetic dentistry, Dr. Saylor was voted the "Top Dentist" in the March/April Issue of Tampa Bay Magazine and is a Time Magazine award winner. For more information, visit www.doctorsaylor.com.
Contact
Doctor Saylor
Carolyn O'Brien
(813) 689-4226
www.doctorsaylor.com

Contact