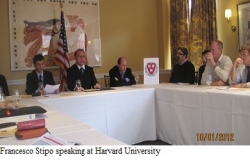 Houston, TX, January 28, 2013 --(
PR.com
)-- Dr. Francesco Stipo, President of the United States Association of the Club of Rome and author of the book "
World Federalist Manifesto, Guide to Political Globalization
" will be the keynote speaker at the Houston Committee on Foreign Relations.
He will deliver a speech on "The Reform of the United Nations and the Role of the United States in International Affairs."
Dr. Stipo has expressed a constructive criticism of the international institutions advocating a reform of the United Nations that would bring about a more efficient form of global governance.
He holds a Ph.D. in International Law and a Master Degree in Comparative Law from the University of Miami.
Dr. Stipo is a renowned thought leader and delivered several speeches at the United Nations, the National Press Club, the National Academy of Sciences and Harvard University.
He has been Director of the India-U.S. Chamber of Commerce of Florida between 2008 and 2012.
In August 2012 he was elected as a Fellow of the World Academy of Art and Science.
He is an active member of the National Press Club and the Atlantic Council of the United States in Washington D.C.