Balfour Beatty Construction Honored with Liberty Mutual's Top Safety Award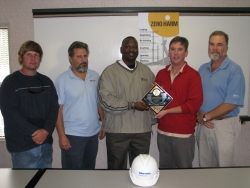 Fort Stewart, GA, January 23, 2013 --(
PR.com
)-- Liberty Mutual Insurance recently honored Balfour Beatty Construction with a Gold Safety Award for an outstanding safety record achieved on the military base of Fort Stewart/Hunter Army Airfield. A Gold Award is the insurance carrier's most coveted safety benchmark and is awarded to less than one percent of its clients.
From January 27, 2011 to November 1, 2012, Balfour Beatty Construction recorded 348,913 man hours with a DART (Days Away/Restricted or Transfer) rate of 0.0. A DART rate reflects the number of recordable injuries and illnesses per 100 full-time employees that result in days away from work, restricted work activity, and/or job transfer.
To win gold, a company must have achieved a very high level of performance, demonstrating well-developed occupational health and safety management systems and culture, outstanding management of risk, and very low levels of error, harm, and loss. Specifically, a project must have recorded a minimum of 200,000 man hours with a DART rate at least 80 percent better than the industry average.
"Receiving this award is a true highlight for this near decade-long project and a tribute to the hard work and dedication our employees have shown in creating and maintaining a safe work environment," said Jim Taylor, Division President of Balfour Beatty Construction's Military Housing group.
This is the fourth Gold Safety Award Balfour Beatty Construction's Military Housing division has received to date. Liberty Mutual has also recognized project teams for safety excellence on the bases of Fort Bliss, Fort Carson, and Naval Station Mayport.
This time period marked the final phase of new construction on Balfour Beatty Construction's nine-year, multi-phased development and renovation project at Fort Stewart/Hunter Army Airfield. The project included 1,999 single and multifamily homes in duplex and quadraplex configurations as well as amenities such as sports courts, playgrounds, community centers, swimming pools, and walking trails.
Since 2002, Balfour Beatty Construction has responded to the privatized housing needs of the U.S. Army, Navy, and Air Force, delivering nearly 13,000 new military housing units on 35 bases across the country.
Fort Stewart/Hunter Army Airfield is the largest Army post in the Eastern United States.
About Balfour Beatty Construction
An industry leader for more than 80 years, Balfour Beatty Construction provides general contracting, at-risk construction management, and design-build services for a wide variety of markets, serving clients in both the public and private sector. With more than 2,400 employees across the U.S., the company has been cited as a Top 10 Green Builder by Engineering News-Record, and as one of the 100 Best Companies to Work For® by FORTUNE magazine, four years in a row. The company is part of London-based Balfour Beatty plc, a global infrastructure services business operating in more than 80 countries, with a worldwide commitment to providing assets that help societies function, develop, and thrive. To learn more about the company, visit www.balfourbeattyus.com or look for BalfourBeattyUS on Facebook, Twitter, and LinkedIn.
Contact
Balfour Beatty Construction
Connie Oliver
214-451-1066
www.balfourbeattyus.com
Beth Hernandez
Marketing Manager, Communications and Community Engagement
Charlotte, North Carolina
p: (704) 319-4122
e: bhernandez@balfourbeattyus.com

Contact