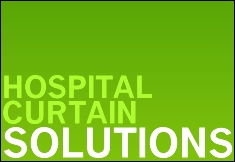 Detroit, MI, January 24, 2013 --(
PR.com
)-- Hospital Curtain Solutions, Inc., a leader in the online hospital cubicle curtain & track industry, announced the launch of their new client website at
www.hospitalcurtainsolutions.com
. The reconstructed site now offers enhanced ordering options, noticeable ease of use and a sleek new look that reflects the company's standing as an industry leader.
The new site, which can be found at http://www.hospitalcurtainsolutions.com, offers several benefits to the client who needs to order hospital privacy curtains and hardware quickly and efficiently. For starters, site navigation is laid out in a visually intuitive manner, which allows clients to move quickly from one portion of the site to the next without having to hunt for the link they need. Ordering cubicle curtains is now a much more fluid process with a new ordering interface that gives the client a variety of options from ordering a single cubicle curtain track for a small doctor's office to purchasing
hospital cubicle curtains
and hardware for an entire medical center tower renovation. Clearly marked ordering fields in a new user-friendly format allow for a much faster processing time and clients are able to order multiple sizes and quantities, in a wide array of patterns and colors, all at once. Government institutions and VA Medical Centers are able to take advantage of a new GSA specific page which better lists all important contract numbers and expiration dates.
Sandra Cimino, VP of Operations, remarked "We've received an overwhelmingly positive reply to the look and usability of the new site since its launch at the end of November. Many clients have told us how much easier it is to move around the different parts of the site and that the ordering process now looks and feels considerably less complicated. An important aspect in dealing with clients in the health care industry is dealing with the speed in which they need to get online, order what they need and move on to their next project. The changes we have made make the ordering process considerably less difficult for everyone."
With 25 years combined management experience, Hospital Curtain Solutions understands the importance of getting your job done right and on time. Their staff can easily assist you with any questions you may have, from color choice and mesh specification inquiries to Joint Commission, NFPA and ACHA requirements. They make certain that every facility receives the highest level of service and personal attention they rightfully deserve. Hospital Curtain Solutions is also proud to be a woman-owned business enterprise and a leader in bringing the most innovative cubicle textiles to the health care industry at large.