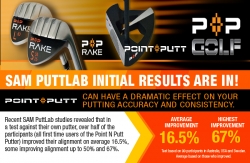 Orlando, FL, January 24, 2013 --(
PR.com
)-- This year is a year of incredible advances in technology and the enhancements it can bring to a player's game, and it seems that the Golf World is buzzing about the release of a particular putter, known as the
PNP Golf Point N Putt Putter.
This isn't your average Putter, it is a USGA Approved game changer, and it is quickly being hailed as The Putter that is going to dramatically improve any player's putting alignment -alignment being the key to great putting.
While there are many features, exclusive to the Point N Putt Putter, that make it one of the most unique, innovative, and sought-after Putters at this week's PGA Show in Orlando, Florida - the most impressive are those that are going to really grab the Golf World's attention and they include; The Patented Directional Pointer, Interchangeable Weights, Improved grip and High Moment of Inertia (MOI).
Patented Directional Pointer
The high contrast Directional Pointer takes the guessing out of putting. It is intentionally separated from the face to make it easier to focus only on the silver pointer and disregard the face.
Just align the Directional Pointer along the intended line as if you were putting only with it. This design automatically squares the putter face resulting in pin-point accuracy.
Also, because your sole focus is on the Directional Pointer which is behind the striking face, it promotes a steady head and smoother stroke at impact.
Interchangeable weights
Their standard putter is 34.5" and has a 375g head weight. Additional weights can be used to create three other weight combinations (355g, 395g and 415g). These can be made simply by changing the weights (either 42g or 62g) in the three weight sockets with the tool provided.
Improved Grip
While most manufacturers treat the grip as irrelevant, they have improved on the standard in three ways. First, they increased length 25mm (or 1 inch). Second, they increased the thickness to help release any body tension in the arms and hands prior to putting. And third, they kept a constant grip profile with a slight taper until the bottom of the grip, encouraging the hands to work in unison on the near constant grip profile.
This grip design also benefits golfers who use the reverse overlap grip, as the bottom hand has more grip room to work with and again aids unison hand movement.
High Moment of Inertia (MOI)
Extreme perimeter weighting gives a higher MOI, as the club head will twist less with an off-center shot making your putts more forgiving.
Reviews
Pro Golfer's have been testing the USGA Approved Putt and have responded with an overwhelming amount of praise. One such reviewer and Pro Golfer, was Eddie Heinen of Heinen Golf. Eddie was so impressed that he joined up with PNP Golf to help spread the word about these innovative products, and to help showcase the Putter and Wedge Series to potential Distributors at this week's PGA Merchandise Show in Orlando at Booth #891.
When asked if he agrees with the statement made by www.pointnputt.com that "The Point n Putt Putter visual alignment technology virtually eliminates alignment flaws common to most golfers. It features a high contrast satin directional pointer that provides unparalleled directional accuracy. No more facing up and guessing. With the Point n Putt Putter, you'll putt your way to lower scores with pin point accuracy," Eddie responded whole-heartedly, "Yes, 100%."
About PNP Golf
PNP Golf is based in Australia and was founded by Paul Donaghue. The company bases its work on the belief that given the right gear, every golfer has the potential to be great and can perfect his putt, no matter what disadvantages he believes he may have.
PNP Golf Owner and Point N Putt Inventor, Paul Donaghue, had this to say about his inspiration that drove him to create the Point N Putt Putter;
"A keen golfer all my life, I suddenly lost the sight of my right eye (from a mini stroke on the optic nerve). Trying to adjust back into golf, the two biggest problems I had were with putting and chipping, in that order. The difficulty in putting was lining up the target direction with the face of the putter.
"After many sleepless nights it suddenly hit me that I needed something to help me definitively (not generally) strike the putt in the target direction. So after much research and development, here we have it – just Point and Putt. So simple and straight forward (pun intended).
"It is very good for one-eyed people and doubly good for two-eyed people… so my golfing mates tell me. I commend my putter to you – enjoy it and confound your opponents."
Contact
PNP Golf
5 Kembla Street
Fyshwick, ACT, Australia 2600