Contaminated Chemotherapy Treatment for Leukemia, Jury Awards 18.5 Million in Medical Malpractice Suit
A 25 year old Toms River man paralyzed from the waist down after receiving contaminated chemotherapy treatment for leukemia was awarded $18.5 million by a Superior court jury in New Brunswick, New Jersey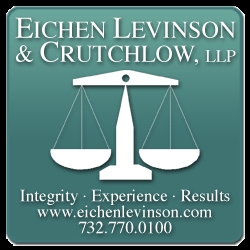 Edison, NJ, July 31, 2007 --(
PR.com
)-- The jury found Eun Mi Jhun, the pharmacist who prepared the contaminated medication responsible for the paralysis, according to the plaintiff's attorneys William Levinson and William Crutchlow, of the Edison law firm
EICHEN LEVINSON & CRUTCHLOW.
Anton Weck was permanently paralyzed from the waist down as a consequence of a mistake in the preparation of a drug administered at Saint Peter's University Hospital in New Brunswick. The contaminated dose was injected into the spine of Anton Weck on May 15, 2001. He had been undergoing chemotherapy for 3 years for Leukemia and was receiving his final dose of the chemotherapy treatment that day. Experts testified that the dose with was given to Weck was contaminated when the wrong drugs were mixed for treatment and then injected into his spinal cord, paralyzing him from the waist down.
Weck was a former arcade operator on the boardwalk at Seaside Heights and is now a computer technologist at the Cerebral Palsy Association of Middlesex County.
After a three week trial and two days of deliberations, the jury returned its verdict in the amount of approximately $18,500,000.00, including $17.5 million for pain and suffering and $500,000 for lost wages.
Eichen, Levinson & Crutchlow is a trial law firm in Edison, New Jersey that handles cases involving catastrophic personal injury, mass torts, class actions, and consumer fraud litigation. Over the past two years, the firm has won over $50,000,000 in jury verdicts for clients in cases including slip and fall accidents, victims of
medical malpractice
,
product defects
,
workplace injuries
and
auto accidents
.
Docket No.: L 5106-02
###
Contact
Eichen, Levinson & Crutchlow
Angela Mckillop
(732)-777-0100
www.eichenlevinson.com

Contact