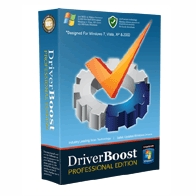 Boston, MA, February 12, 2013 --(
PR.com
)-- DriverBoost can
fix Windows 8
problems. DriverBoost, the award-winning, Microsoft-partnered software designed to help PC owners ensure their hardware works like new (even when it's not), announced in January that it has upgraded to be compatible with Windows 8.
Boost Software, developer of DriverBoost, is a certified Microsoft Partner. The company's DriverBoost software has received a 5/5 Tucows rating. The software has a free shareware version available at http://DriverBoost.com.
"We've worked hard to make sure that DriverBoost is available to anyone with Windows 8 who needs it," says Amit Mehta, developer and owner of Boost Software. "DriverBoost can help out anyone who has upgraded to Windows 8 and is having some problems getting their old hardware to work. It's also a perfect way to make sure their drivers stay updated in the future, so that everything keeps working smoothly."
What's all the fuss about drivers? Hardware drivers are small pieces of code—too small to be called programs—that act as "translators" between a computer's operating system and its hardware, as well as between one hardware device and another.
"Without drivers," Mehta explains, "Every piece of equipment you buy would have to be created specifically for your make and model of computer, and for one and only one operating system (such as Windows Vista, Windows 7, or Windows 8 only). A hardware device's drivers are what allows it to be used with any computer, anywhere."
But when a device's drivers are old or outdated, it can cause problems for the hardware—and ultimately, for the hardware's owner. Outdated drivers can decrease functionality, cause the device to give spotty performance, or even cause it to become useless entirely—especially when the drivers weren't made specifically for the current operating system (such as Windows 8).
Unfortunately, many proud new Windows 8 users are still stuck with Windows 7 drivers (as well as Windows Vista drivers, and even Windows XP drivers). Sometimes the problems are immediately apparent, like a printer that won't complete jobs properly.
Other problems aren't always immediately apparent, and may not even be problems at first. But the more the new operating system updates and combines with other new software, the more likely it is that old Windows 7 drivers will become a problem.
This often leads computer owners to try to download the drivers on their own. The DriverBoost website and blog give specific instructions on how to do exactly that—but with a caveat.
"Finding your own
Windows 8 driver downloads
can be a slippery slope," says Mehta. "The way most manufacturers present them can be confusing even to technically-oriented users. Downloading two many of the wrong drivers can cause your equipment to stop working, or even put Windows into a state of something called 'driver confusion' - which means you may have to re-install Windows!"
Users familiar with this solution know all too well that re-loading Windows will wipe all previous files from their hard drive.
To find out more about DriverBoost software—including a free download of the software that will identify out-of-date and missing drivers—go to
http://DriverBoost.com
.