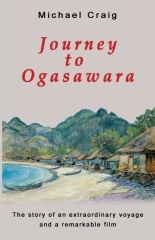 Moscow, Russia, February 08, 2013 --(
PR.com
)-- The publication of Michael Craig's first book "Journey to Ogasawara" has been eagerly anticipated and is a companion to the film from Copernicus Films "David Burliuk and the Japanese avant-garde"
The islands of Ogasawara lie some 1000 kilometres to the south of Tokyo in the Pacific Ocean and is part of the Tokyo prefecture. It takes about thirty hours by ship to reach the islands.The book gives a flavour of life on the island and its unique history and culture which has been influenced by European and Japanese settlers. The islands were finally handed back to Japanese jurisdiction by America in 1969.
The book, is an account of the journey which the film maker Michael Craig with his company Copernicus Films made to the unique tropical island of Ogasawara whilst filming "David Burliuk and the Japanese Avant-garde." Its volcanic origins and remoteness make it an area of ecological and scientific significance and is protected by UNESCO. The artists David Burliuk lived and worked on the island of Chichi jima in 1920 before finally emigrating to America - painting much in the manner of Gauguin. After deciding to make a film about David Burliuk a visit to the islands became essential.
After a decade working in the film and television industry in the UK, Michael Craig traveled to Moscow in 1995 to make films and write where he has lived and worked ever since. He made the first documentary film in the series "Alexander Rodchenko and the Russian Avant-garde" in 1999 which premiered at the Milan International Film Festival (MIFF) and was shown on British Television. From here he embarked on series of films about the Russian Avant-garde of the 1920s and 30s:
The "Journey to Ogasawara" can be found on Amazon on or check www.davidburliukjapan.com or www.copernicusfilms.com for more detailed information about the film and distribution: or e-mail: copernicusfilms@yahoo.co.uk.