The Authoritative Book on IT Management, "Unlocking the Power of Information Technology", is Now Available as a Kindle eBook
The founder of IT consulting firm, JCHamilton Consulting, has published the eBook version of the authoritative text on IT Management, "Unlocking the Power of Information Technology", available through Kindle Direct Publishing. The book focuses on "doing the right things", and "doing things right" in IT service delivery. Companies committed to operational excellence gain a real and sustained competitive advantage in terms of reliability, effectiveness, efficiency and cost control.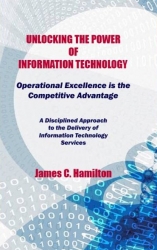 Houston, TX, February 13, 2013 --(
PR.com
)-- Information technology is an integral and vital element of any organization's business, and a smooth-running IT operation will not only directly impact the bottom line, but it will also project a quality, professional image of the company externally. The average company today spends between four and five percent of revenue on IT, and that figure can be ten percent or more in industries highly dependent on IT. This is a substantial investment which can add significant value to the corporation but also represents a large component of expense. However, the quality (or lack thereof) of IT services can have an even broader impact on the success of the enterprise. IT service management can literally make the difference between a thriving, successful business and one that struggles or even fails.
Addressing this challenge was the mission of the paperback edition of the book, "Unlocking the Power of Information Technology". The processes described in this book are primarily based on those utilized by one of today's most successful global companies. And now this same text has been made available as an eBook, through Kindle Direct Publishing (KDP). The eBook Edition contains all of the figures, tables, charts and text material found in the original edition. Some formatting changes were made to accommodate the eBook medium and the Table of Contents in this edition is bookmarked with active links to the chapters and main sections within the book. Other updates have been included to reflect growing trends in the areas of BYOD (Bring Your Own Device) and Cloud Computing, and how to effectively address these developments.
From a business leader's perspective, the world of Information Technology can be an intimidating maze of terminology and hype, with an insatiable appetite for ongoing and new project funding. Business leaders struggle with questions on how much to spend on IT, how to be sure benefits will accrue from the very significant investments, and how to effectively organize and manage IT. This is all the more challenging as IT is not normally the main mission of the enterprise, nor the core competence of the senior business leaders. Even within IT management circles, the complexities can be overwhelming in the absence of a disciplined approach to managing IT services.
"Applying the discipline of operational excellence across all aspects of a company's business activities is the key competitive advantage, and nowhere is this more evident than in the realm of internal IT services," says James Hamilton, author of Unlocking the Power of Information Technology. Operationally excellent companies get more value from their IT investments and benefit from a much more stable and robust operating environment. They avoid debilitating scenarios where - a server crashes with no viable back-up, a virus shuts down the network, security breaches compromise corporate databases, or large and costly IT projects fail due to poor definition or execution. Employing a disciplined IT management process can have a dramatic effect on the bottom line, and in some cases may even determine the long term viability of the entire enterprise.
Those companies that master the discipline of Operational Excellence in managing their IT services will see benefits in a number of critical areas:
· Flawless execution
· Robust, reliable operations
· Lower costs
· Effective change management
· A 'great deal' for the customer
"Unlocking the Power of Information Technology" provides pragmatic guidance on business alignment, strategic planning, governance, IT architecture, security services, managing IT systems as services, project management, organization design, sourcing and vendor management. It documents compelling insights distilled from the author's years of experience providing IT services for one of the largest and most successful global corporations. This approach has been proven to be a winning strategy throughout the highs and lows of business cycles.
Both the paperback and the Kindle editions of the book can be purchased at Amazon.com for $19.95 (USD) and $8.95 (USD) respectively. To learn more about the book and how to purchase a copy, you can also visit www.jchamiltonconsulting.com.
JCHamilton Consulting LLC provides Information Technology Management services based on a proven commitment to the discipline of Operational Excellence.
Contact
JCHamilton Consulting
James Hamilton
832-367-4846
www.jchamiltonconsulting.com

Contact
Multimedia
Summary of key steps to achieve Operational Excellence in IT Management and the corresponding Enabling IT Mechanisms.