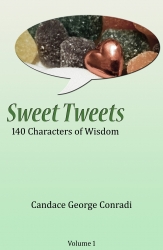 San Diego, CA, February 14, 2013 --(
PR.com
)-- Author of a Much-Beloved Children's Fable Now Releases Her New Book of Compiled Tweets that Bring Inspirational Messages to Others Just in Time for Valentine's Day.
Love letters have been the language of the heart for eons and Candace Conradi knew she wanted to do something special to thank her many Twitter followers. Hew new book "Sweet Tweets, 140 Characters of Wisdom, Volume I" is a two year compilation of her posted Tweets. It unwraps like a gourmet box of chocolates, offering sweet rich tidbits of wisdom that inspire and give permission to others to "think outside" the box.
Sweet Tweets, 140 Characters of Wisdom returns us to a time when everything was hoped for and possible. To offer a complete thought in 140 characters is the closest thing in life to renewing our child-like wonder. Simple and concise, the messages remove us from a world that is complex and full of drama, offering short sentiments of wisdom and insight. Its great possibility is in its ability to inspire and perhaps reveal something deep within us that can allow us to live more thoughtfully in our day-to-day life. It offers support and encouragement (and even permission) to reconsider how we view the world and the billions of people with whom we share it. In the end, regardless of our difference, the majority of us simply wish for the same thing: to be loved, honored, and to live a life of peace. Sweet Tweets, 140 Characters of Wisdom reminds us of this very simple truth.
For More Information, Contact:
Candace Conradi
www.candaceconradi.com
email:
candaceconradi@gmail.com
Phone: 1-858-775-5098