Gene Averill, Joe Averill Are 2013 Supply Chain "Pros to Know"
Supply & Demand Chain Executive Magazine Highlights Leading Supply Chain Executives.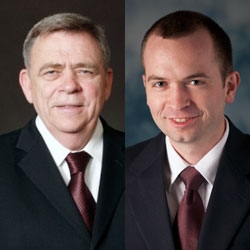 Rexburg, ID, February 16, 2013 --(
PR.com
)-- Supply & Demand Chain Executive Magazine today announced that Gene and Joe Averill, two Avercast LLC executives, were named 2013 "Pros to Know." The magazine, an international industry publication for supply chain professionals, uses the annual list to recognize the most notable innovators in manufacturing, procurement, logistics and related disciplines.
Gene Averill personally pioneered many of the demand management planning technologies that are commonplace today. His software has earned numerous industry accolades as he has developed a reputation for recognizing atypical demand patterns, especially critical parts where the expense of keeping multiple spare parts on hand is prohibitive and ordering at the last minute is impractical. He continues to spur innovation in forecasting and demand planning systems by challenging traditional thinking and the status quo.
In today's supply chain, time is of the essence. As Avercast's Senior Software Engineer, Joe Averill facilitates effective communication from the field to the supplier from any web-enabled device. He has also created more effective systems for accessing forecasting data in a variety of structured and unstructured formats, improved user interfaces by working directly with planners and field sales forces in wholesale, distribution and retail, and created the cloud-enabled version of the Avercast platform.
"The industry has advanced because industry professionals such as Gene and Joe, who continue to improve their customer's functionality and, in turn, advance the global supply chain," said Supply & Demand Chain Executive Editor Barry Hochfelder. "Innovators should get the recognition they deserve for working to overcome emerging issues while growing the global supply chain," Hochfelder continued. "This was one of the main reasons we started the 'Pros to Know' awards in the first place."
Now in its 13th year, the Supply & Demand Chain Executive "Pros to Know" awards recognize vendors and practitioners—supply chain executives who demonstrate leadership, provide competitive advantage and deliver value to the bottom line.
About Avercast, LLC
Avercast® inventory forecasting and demand planning solutions are the world's first easy-to-use tools to optimize inventory according to true demand. Avercast's forecasting technology includes an industry-leading 187 forecasting algorithms to optimize product trending, sales seasonality, new product introductions, mature and aging products, intermittent product demand, low-volume and slow-moving products, product promotions and much more. Please call 208-538-5380 or visit
www.avercast.com
for more information or to schedule a personal demonstration using your company's inventory and demand data.
About Supply & Demand Chain Executive
Supply & Demand Chain Executive is the executive's user manual for successful supply and demand chain transformation, utilizing hard-hitting analysis, viewpoints and unbiased case studies to steer executives and supply management professionals through the complicated, yet critical, world of supply and demand chain enablement to gain competitive advantage. Supply & Demand Chain Executive is a publication of Cygnus Business Media. Visit us on the Web at www.SDCExec.com and on smart phones and tablets at www.SDCExec.com/mobile.
Contact
Avercast, LLC
Tim McGraw
(208) 538-5380
www.avercast.com

Contact