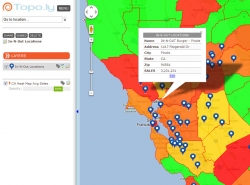 Naperville, IL, March 06, 2013 --(
PR.com
)-- Businesses may be worth more than what their owners think. But to unearth the real value of a business, company owners, investors and entrepreneurs should be able to use business intelligence tools. Now more than ever, business analysis is fast becoming a mainstream in most organizations. One BI tool that companies regularly use is online mapping. Topo.ly has fast become a leader in the field of data visualization providing exceptional online mapping to help businesses discover their worth and use it to strengthen their business for more stable growth.
Four years ago, Topo.ly started taking mapping to a whole new level. From the beginning, it has offered modern mapping applications. It is committed to helping organizations really understand how much their worth is and how to use their value to strengthen their business even more. Unlike other BI tools available in the market, Topo.ly makes it possible for business owners to enable their own company's business analysts, line managers and business intelligence professionals. It uses simple mapping applications that drive results fast. Tom Haydon, a successful businessman who uses Topo.ly in most of his analysis says, "You folks have a great piece of software here. I was able to create a useful map within a few minutes of opening an account."
Mapping Features to Utilize Geographic Data
Topo.ly uses easy-to-use features to offer businesses a bright new look at their sales and marketing practices. It allows the users to add limitless data sets and match them with a long line of available territories. This way, users can analyze the rationale behind the services they offer with their customer demographics, behaviors, buying patterns, and many more.
Thousands of Topo.ly users appreciate the fact that the online mapping site allows them to create maps for free in a snap. Data gathered and plotted in Microsoft Excel spreadsheets can be copied and pasted and become an igniting visual that tells ideas that can be used to increase business efficiencies.
Other features of Topo.ly that are worth trying to help discover business value are:
Heat mapping in less than 3 minutes
Customizing
Showing location labels
Sharing maps
Embedding maps on websites
Save unlimited maps
Just by looking at the awesome data visualization that maps create, company owners immediately come to realize that their business is worth more than what they think. As they dig deeper through the connections of their business to different data layers, they are able to learn how their businesses can increase success