5Star Awards Named 2012-13 Small Business Retailer of the Year; Receives Awards Industry's Coveted Gold Obelisk at International Conference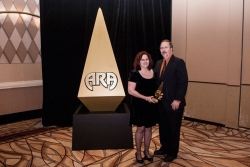 Cary, NC, March 05, 2013 --(
PR.com
)-- 5Star Awards, Inc, of Cary, NC, represented by owners Lisa and Jeff Higginbotham, was named Small Business Retailer of the Year 2012-2013 at the Awards and Recognition Association's International Awards Market, held annually in Las Vegas, NV.
The awards industry presents this recognition annually in both small and large business categories, and the award "Honors a retailer who exemplifies sound business practices, integrity, and builds healthy partnerships with customers and suppliers." 5Star won for the small business category.
Factored into the final decision rendered by the Awards Committee were 5Star Awards' "stellar website, dedication to the Awards Industry, recent expansion into a new 2,000 square foot facility, and active involvement in their community," according to the introduction at the banquet. Each year, the ARA (Awards and Recognition Association) asks members for nominations in the various category awards. Retailer awards such as this one are then submitted to supplier and manufacturer members for a vote, which is then tallied and the final decision is made by the ARA's Awards Committee, and announced at the International Awards Market in Las Vegas. The ARA is an international organization with more than 3,000 retailer and supplier members in the awards and engraving industry.
"Receiving this award, knowing that our suppliers and peers voted for us, is an honor bigger than I can express in words," said Lisa Higginbotham in accepting the Gold Obelisk. "Last year was a difficult one for us, losing my father to cancer in March, moving the company into our new facility, and then ending the year with an amazing growth in sales during a difficult economy. We are in the business of making awards, not receiving them, so I am afraid I am at a loss for words! I only wish my dad had been here to see this."
5Star Awards, Inc., is a 13 year-old corporate awards business located in Cary, NC, specializing in etched glass and crystal awards, laser engraving and industrial engraving. They also serve a niche market producing monogrammed acrylic jewelry. Lisa Higginbotham started the business in 1999 in Raleigh and is especially proud of the website which has reached customers all over the world, and been a large contributor to the growth of the company.
Contact
5Star Awards, Inc.
Lisa Higginbotham
919-954-1130
www.5starawards.net

Contact