Josh Hoke Releases Debut Album "Ghosts and Glory"
Josh Hoke delivers his highly anticipated debut album, "Ghosts and Glory," available on Amazon.com, iTunes, and all major music sites.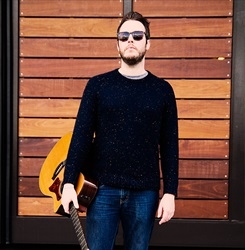 Portland, OR, March 07, 2013 --(
PR.com
)-- "Ghosts and Glory" is a collection of songs written and performed by Portland-based singer/songwriter Josh Hoke. The album has 10 tracks that reflect the recent folk resurgence. "What started out as a simple acoustic project quickly evolved into a more musically abstract collection of songs. Adding banjo was an early decision," said Hoke, who performed multiple roles on every track. "Adding other musicians and bringing in additional talent gave each song its own feel, and was an unexpectedly fun part of the project. We wanted this to be an album you could listen to from start to finish, so deciding exactly which songs should appear on the record was an interesting challenge."
Hoke originally hails from Indianapolis and relocated to Portland, Oregon in 2011. Since arriving in Portland he has become a mainstay among the burgeoning folk music scene that has recently infiltrated the Northwest. "The Portland community of artists is very welcoming," said Hoke. "I'm very grateful to have landed among a group of people that is so accepting of new musicians and open to working and performing together. The essence of the album definitely stems from my roots, but the final product absolutely reflects all the artists from the greater Northwest that have influenced me over the past two years."
The LP is produced by Jozi Bently and Dave Beatty of BentBeat Productions. The trio began collaborating in early 2012. "Josh initially caught our attention as a solo act, performing locally. It was immediately apparent to us that his style of music and level of talent would be a good match for the BentBeat Label," said Bently. "We spent a lot of time working with Josh and his musicians to create a project that would be accessible to anyone who turned on a radio yet truly unique to Josh's style and vision. 'Ghosts and Glory' definitely achieves that, and we are super proud of Josh for this fantastic first release."
The full length CD "Ghosts and Glory" is available for purchase on Amazon.com or can be downloaded from iTunes, Spotify, and all major music sites.
About BentBeat Productions: BentBeat Productions, the recording and publishing division of All Requests Live, Inc., is based in Vancouver, Washington. BBP's focus is on partnering with musicians to produce and record high quality, radio-friendly music. Working with social media and through mainstream channels of distribution, BBP's portfolio is available on Amazon.com or can be downloaded from iTunes, Spotify, and all major music sites. Please join in supporting musicians.
Contact
BentBeat Productions
Dave Beatty
503.489.8275
www.bentbeat.com

Contact