Billionairio – Don't Play This Game… and Still Win 10,000 Euro
Billionairio now offers a no-purchase-necessary game for all those who believe that billionairio.com does not offer them a fair shake. For not playing billionairio.com, people will have the chance to win 10,000 Euro.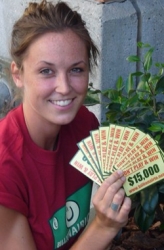 TaXbiex, Malta, August 06, 2007 --(
PR.com
)-- Two weeks ago billionairio.com was launched, the first global raffle-style online game offering a jackpot of up to 1 billion Euro. Tickets are 25 Euro, there are 1200 additional prizes between 1,000 and 10 million Euro. "While the chance to win 1 million Euro at 1 to 1 Mio is better than with any traditional lottery", says Chris Strongman, Managing Director of UniMint Ltd, the operator of the Billionairio game, "there are still people who have their doubts about the sincerity of our game. So we thought, why not offer them a way to win something by not playing? That's right, if you don't think we offer you a fair shake, then don't buy a ticket, send us a photo with an 8-digit number between 1 and 75,000,000 instead. If someone wins a big prize with that number, we will pay you 10,000 Euro for allowing that other person to become a Multi-Millionaire, or even Billionaire, with the number you picked." Please visit www.billionairio.net for details and to submit your photo.
When asked about the success of Billionairio.com Strongman replied "We are happy that the public received our game so well. Billionairio attracts players of all ages (over 18 years old) and from all walks of life, our players do not fit the stereotypical profile of the online player – young, male and computer-savvy." Strongman continued "We were a bit surprised by the fact that many people prefer to pick a specific number. Our prizes are played out like in a raffle, which means that we have to sell a block of consecutive numbers to trigger a prize draw. Ticket sales are going well, it is just that no complete block has been sold yet, for example ticket numbers 001 to 1000. I would encourage our players to take a good look at the "buy the next available" ticket purchase option."
About UniMint - UniMint Ltd, the operator of the Billionairio game, is based in Malta, an EU member state since 2004. UniMint operates under a Class 1 Gaming license from the LGA Malta. The Republic of Malta has emerged as a major hub of the global gaming industry.
For more information please contact - info@unimint.com
UniMint Ltd
Chris Strongman
+44 (0) 20-710-60727
info@unimint.com
http://www.billionairio.com
###
Contact
UniMint Ltd
Chris Strongman
+44 (0) 20-710-60727
http://www.billionairio.com

Contact