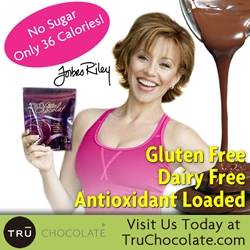 Boston, MA, March 14, 2013 --(
PR.com
)-- Forbes Riley, National Fitness Hall of Fame inductee 2010, award-winning TV host, author, highly sought-after spokesperson, motivational keynote speaker, life coach to celebrities and CEOs, mother, wife, actress and founder/CEO of SpinGym LLC -- a new breakthrough in exercise, is excited to be a part of Tru Chocolate®, a leading distributor of
healthy dark chocolate
. She has helped millions take positive action in their own lives by sharing her passion for and unshakeable belief in the impact a healthy lifestyle can make in your life. Twice she was been named ERA's Best Female Presenter of the Year and twice recognized as Best Live On-Air Home Shopping Guest.
Forbes Riley is fiercely committed to health and fitness. She is recognized worldwide for promoting the power of juicing with the Jack LaLanne Power Juicer™ and Living Well with Montel Williams HealthMaster™. Forbes is a regular presence on televisions worldwide as a product spokesperson and television host -- appearing on such networks as ESPN, TLC, Fit-TV, Animal Planet, ABC Family, Home Shopping Network, QVC, The Shopping Channel (Canada), QVC London and has been profiled by Forbes Magazine in the E! Network special "Outrageous Fortunes". For more information about Forbes Riley, please visit http://www.ForbesRiley.com.
Mr. Ruff says: "Forbes and her wellness students incorporated healthy dark chocolate by Tru Chocolate® in her studio regimen over a period of six weeks, and she quickly became convinced of the multiple benefits Tru Chocolate® has to offer and how this healthy dark chocolate can help everyone. It goes without saying, we are very pleased to have Forbes Riley on board."
Tru Chocolate® is a healthy dark chocolate and is being used in the League School of Greater Boston, a school for autistic and Asperger children. The Big Brothers Big Sisters Foundation is also promoting Tru Chocolate® to increase awareness of this revolutionary new chocolate which has benefits for people of all ages. Through TV, retail outlets, and health and wellness centers in the greater New England area, people will soon become aware of this delicious healthy dark chocolate which has no sugar, gluten or dairy.