New SUCCESS Book is Launched in Atlanta by Author Anna Stevens - "Turn Your Dreams and Wants Into Achievable SMART Goals!" Join the Free Book Signing Party! 5/9/13
New SUCCESS book is being launched in Atlanta on May 9th 2013. The book is a comprehensive manual on effective goal-setting and provides detailed strategies to make your dreams a reality as well as offers worksheets and templates allowing you to take actions right away. The book reveals author's personal stories of struggle, domestic violence, homelessness, and success. The book already gathered 10 pages of endorsements, changing people's life for the better!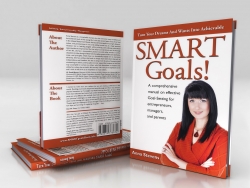 Atlanta, GA, April 22, 2013 --(
PR.com
)-- Come celebrate the new book - a free book signing event in Atlanta:
When: May 9th, 2013 at 6 pm
Where: Cleveland L. Dennard Conference Center
1560 Metropolitan Parkway, S.W. Atlanta, GA 30310
RSVP at http://SMARTgoalsBookLaunch.eventbrite.com
Author Anna Stevens has created a masterpiece to help people turn their dreams and wants into reality. She was born to a single mother, lived with alcoholics for decades, yet was able to graduate with high honors from a business school and a law school, after which married an American Charming Prince who brought her to the US, abused for months until she ran away with police just to find herself homeless in a shelter for victims of domestic violence not even speaking a word in English. A short 4 years later, author Anna Stevens is a successful business owner, happily married, graduating from GA State University, J. Mack Robinson College of Business with MBA, and has been featured in several magazines, radio shows, and on TV.
Having overcome so much adversity, Anna Stevens is committed to sharing her powerful strategies to success with as many people as possible. After presenting to hundreds of people as a speaker and trainer and after coaching a diversity of individuals to advance in life, career, and business, Anna Stevens wrote her first book called
"Turn Your Dreams And Wants Into Achievable SMART Goals!"
and is launching it in Atlanta this May. A percentage of the book sales will always be donated to the Women's Resource Center to End Domestic Violence where Anna volunteers her time.
"This book is great for anyone who is not afraid to make their dreams come true, regardless of where they are in personal or professional life. Anna Stevens openly shares the recipes for success through valuable goal-setting principles, which derive from her personal experiences. This book is a must-read for any up and coming entrepreneur who is just starting out. It is also a valuable resource for all professionals seeking to achieve their dreams." - says
Jason Oliver, HR Director at AT&T Mobility
.
"Turn Your Dreams And Wants Into Achievable SMART Goals!", nicknamed as the SMART goals Book, has already received media coverage in several magazines and radio shows that strive to inspire and empower their communities.
"I wanted to make sure you realize that you are making a difference in the world. Reading your book helped me break through and there was almost a physical sensation as if a weight was lifted from my shoulders. It was as if my brain had rebooted and came back online functioning at 100%. Thanks!" - says Don Cross, DC, FIAMA, FABDA.
Anna Stevens teaches her reader how to gain clarity and focus in life. She provides the framework called SMART goals (Specific, Measurable, Action-oriented, Realistic, and Time-bound) as well as the step-by-step plan for developing mission statement and a list of values that can help guide you daily in your decision-making. "Pursuing your mission-statement and living up to your identified values will help you deal effectively with avoidance, procrastination, victim-mentality, as well as control your impulses, and sacrifice short-term pleasure for long-term sustainable success." - says author Anna Stevens. The book is full of real-life stories that are aimed to motivate and inspire the reader and encourage to take charge.
If you're in Atlanta on May 9th 2013, join the celebration of this new book and meet author Anna Stevens personally!
Free tickets, Free food, Free wine!
To reserve your free ticket, you must RSVP before May 5th:
http://SMARTgoalsBookLaunch.eventbrite.com
Make sure you don't miss this once-in-a-lifetime happening!
Get your copy of the SMART goals Book today!
Sponsors:
1.
H3O Eco Magazine and Felicia Phillips.
2.
Southern Barter Club and Laurie Sossa.
3.
ATRpictures.com and Anna Rumiantseva with Tobias Roybal.
4.
Ai Tunes Karaoke and Martin Chan.
5.
World Trade Center in Atlanta.
Contact
EQ for Success LLC
Anna Stevens
770-633-0115
www.EQforSuccess.com
www.SMARTgoalsBook.info
@SMARTgoalsBook

Contact
Multimedia
This is a comprehensive media kit for the SMART Goals Book. A one page document that contains all important information.