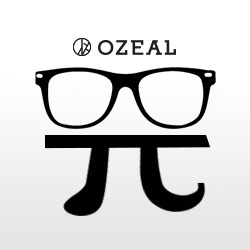 London, United Kingdom, March 15, 2013 --(
PR.com
)-- London-based startup
Ozeal Glasses
made the first step forward in 2013 by advocating the celebration of Pi Day. Innovative and impressive, Ozeal launched a new series of glasses for those who is longing for a nerdy look on Pi Day. To promote this nerd culture, Ozeal has done all the necessaries in marketing.
Why Nerd Culture and Glasses for Nerds?
Most of Ozeal staff are nerds. As they say, birds of a feather flock together. Ozeal staff are intelligent, passionate and serious about their work. Nerd culture is popular in Ozeal for half of them wear glasses like nerds, dress like nerds, and even talks like nerds. They say everything based on facts. Glasses for nerds, with over-sized frames and thick lenses to make the wearers looks urbane and well educated, have become a trend for those eager for a distinctive style.
Who Comes Up with This Nerdy Idea?
Aaron, the CMO of Ozeal, (a typical representative of nerds) said, "I really want Ozeal to cater for people like me. Why there is not a day only for nerds? Everybody can think like a nerd, act like a nerd and dress like a nerd on that day." Since March 14 has already been designated as Pi Day, he decided to have this day endowed with nerd culture and new meanings. "We hope people can remember Pi Day and nerd culture gradually wins the mass recognition," the nerd said.
How Did Ozeal Promote Pi Day and Nerd Culture?
Ozeal offered a big discount on the latest glasses for nerds on Pi Day. With elegant design plus exquisite craftsmanship, Ozeal also offered free shipping and free returns within 60 days. Besides, every nerd had the opportunity to get free frames if they joined Ozeal on Facebook or Twitter to promote nerd culture on Pi Day. So far, Ozeal Pi Day idea has gained great popularity through social media. Well begun is half done, Ozeal will keep blazing a new trail.