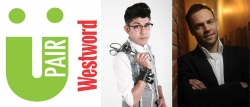 Denver, CO, March 15, 2013 --(
PR.com
)-- Powerhaüs Studio artists Jimmy Sellars and Lauri Lynnxe Murphy and fashion designer Mona Lucero have selected Mondo Guerra and David Dadone as jurors in their sponsored PAIR Program. PAIR, an acronym for Powerhaüs Artist in Residence, will offer 1 selected visual artist and 1 fashion designer a free studio, mentoring from some of Denver's top artists, a live blog on the Voice Media Group publication Westword's westword.com website, introduction to the region's top creatives, exclusive media coverage in Westword magazine and several other sponsored perks for three months.
Sellars, Murphy and Lucero were all chosen as MasterMinds by the Westword in the annual MasterMind Awards. Nine years ago, Westword introduced the MasterMind awards. Recognizing that the local arts scene needed a little fertilizer to really get going, and growing, Westword created a program that every year honors five cultural visionaries -- artists and organizations alike, in the very broad areas of multimedia, performing arts, literary arts, visual arts, multimedia and fashion/design -- working to change the cultural landscape of metro Denver. Westword decided to not just honor them, but to give them each substantial cash awards to use as they see fit...with no strings attached. Now Westword is sponsoring three of these such visionaries in their newest joint endeavor at Powerhaüs Studio, the Westword MasterMind PAIR Program.
Artists and fashion designers will be selected by two high profile jurors, Mondo Guerra and David Dadone. Mondo Guerra, a Denver designer and MasterMind's Mastermind recipient, first endeared himself to an international audience in 2010 on Lifetime's Project Runway season 8. His innovative style and bold designs have captured the imagination of the fashion world, while his courageous story has inspired global support surrounding his HIV/AIDS activism. Guerra went on to win the Project Runway's All Stars season 1 and continues to captivate audiences and influence designers around the world. David Dadone is the new cutting-edge executive director of Boulder's Museum of Contemporary Art. Born and raised in Buenos Aires, Argentina, Dadone moved to Colorado 8 years ago and began an incredible trek to his position at the BMoCA.
The PAIR Program kicked off a call for entry on February 18, 2013 with a deadline of April 9, 2013. Recipients will be notified of their acceptance by April 18 and be able to move into their new digs on April 30, 2013. Both Mondo Guerra and David Dadone will issue Juror awards to two lucky recipients who may or may not be the recipients of the artist in residence program.
Interested artists and designers may read more about this tremendous call or submit their applications at PowerhausStudio.com.
For more information, images, television/radio/print interviews, etc. contact Mona Lucero at (303) 521-2368 or Jimmy Sellars at (303) 808-1928. For more detailed information on this project visit http://www.powerhausstudio.com/pair/.