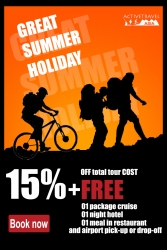 Hanoi, Vietnam, March 22, 2013 --(
PR.com
)-- A variety gifts such as discounts up to 15% on tour request, free city tour, free one night at a luxury cruise or at hotel, free meal at elegance restaurant and others are in the listing of lucky gifts.
Escape to and learn from difference. Instead of staying at home, trek through the jungle closer to wildlife, actively ride on a bike or motor along the legendary trail to hotspots, the remote places in Vietnam, Laos, Cambodia to live like local people, enjoy the amazing food, learn new language, experience rich culture, gain historic knowledge. Leave everything behind to see life in a different way. Why not?
ActiveTravel Asia would like to assist all customers to travel in the period between 01 May 2013 and 30 September 2013. Just have fun and get lucky by requesting the tour on ATA's websites – and get a ticket number. Customers get a chance to receive the summer promotion 2013. Each Monday ActiveTravel Asia will announce lucky people via website and social network channel.
Customers have the right to get the summer promotion 2013, following the Terms & Conditions:
- The offer applies to all customers who send the request and book a tour with ActiveTravel Asia from March 25th to September 30th, 2013 for the travel period between 01 May 2013 and 30 September 2013.
- The offer applies for all requests of package tours (from 2 days more), it cannot be applied to airfares, travel insurance, extra accommodation.
- The promotion is only valid for requests & bookings of tours in Vietnam, Laos & Cambodia.
- The request applies to bookings which are not too different from the original request in terms of location, activities, duration.
- The prizes are not transferable and cashable.
- At the end of promotion time, the prizes will be no longer available.
For more details:
http://www.activetravel.asia/special_offer/2013_summer_promotions.html
ActiveTravel Asia offers a wide selection of Vietnam, Laos, Cambodia adventure tours, including hiking and trekking, biking, motorcycling, kayaking, overland touring and family travel packages.