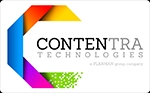 Cincinnati, OH, March 28, 2013 --(
PR.com
)-- Planman Technologies, a global leader in integrated content transformation solutions, announced today the renaming of the company as Contentra Technologies. This new name represents the company's focus on content transformation services and the broadening of its service lines.
Over the past 10 years, Planman Technologies has been a trusted partner in the book publishing, library, and news industries. Now the company is taking its content transformation expertise to new markets and to new industries. The company views organizations across industries as "Content Publishers," each publisher with its own unique content life cycle and each with an extraordinary amount of content to be created, repurposed, and distributed. As Planman reached out to new industries and new markets, the company decided to take on a new name—Contentra Technologies—to reflect its growth and plans for the future. This new name reflects their expanding expertise, their new markets, and their specialized offerings in transforming content for publishers around the world.
The ownership and management of the company remains unchanged. The change in business name to Contentra Technologies will have no impact on the terms and conditions governing existing Master Services Agreements, Work Orders in place between Planman Technologies and its clients or partners, and any other planned service delivery milestones or service delivery process.
"These past years have been incredible for the company. The goal is to dedicate most of this year toward creating awareness about the brand. Besides, we're the same great people with the same great service," says Pawan Narang, Senior Vice President Contentra Technologies.
About Contentra Technologies
Contentra provides world-class content, knowledge, and technology solutions to clients globally. Contentra delivers full life-cycle content management services that include content creation, capture, digitization, preservation, and distribution to leading publishers, content aggregators, Fortune 500 companies, and government organizations like National Libraries—all from its ISO-certified facilities. Contentra has five offices across United States, Europe, and India.
For more information on Contentra Technologies, its services and solutions, please visit
www.contentratechnologies.com
.