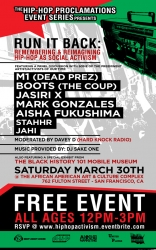 San Francisco, CA, March 29, 2013 --(
PR.com
)-- Hip Hop Proclamations Concert and Community Event Series
Art Under Pressure and Ankh Marketing launch: Hip-Hop Proclamations concert series at 1015 Folsom Street.Ab-Soul, dead prez, Jasiri X, Stahhr, Mikeflo, Stefisdope, and a host of other phenomenal, socially conscious artists take the stage reflecting the cultural depth of Hip-Hop.
Hip-Hop has catapulted into a global art form.Hip-Hop Proclamations is a positive platform to influence and empower youth. Saturday, March 30, 2013, Hip-Hop Proclamations: Run It Back will showcase at the African American Art and Culture Complex, 762 Fulton Street. Moderated by legendary Davey D of Hard Knock Radio, and music provided by DJ Sake One.
"Remembering and Re-imaging Hip-Hop as Social Activism" panel discussion featuring M1 of dead prez, Boots of The Coup, Jasiri X of 1hood Academy, poet Mark Gonzales of Stanford University Institute for Diversity in the Arts, Aisha Fukushima of Raptivism, Azadeh Zohabi of Legal Services for Prisoners with Children, and Hussayn Bey of National Institute of Youth Academics, Athletics, and Arts (NIYAAA). In addition to an exhibit by Black History 101 Mobile Museum's Hip-Hop memorabilia, including a presentation by curator Khalid El Hakim discussing the significance of Hip-Hop inventions and history.
For more information about the events, interviews with panelists, or media coverage, contact:
Emani Bey
Emanibey12@gmail.com
925-234-6388
March 29, 2013 9pm
Hip-Hop Proclamations Ab-Soul, dead prez
1015 Folsom, San Francisco, Ca
March 30, 2013 12pm
Hip-Hop Proclamations: Run It Back
African American Art Culture Complex
762 Fulton Street, San Francisco, CA
Hujambo PR Network
Contact: Emani Bey
Emanibey12@gmail.com
925-234-6388