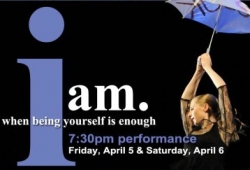 Brockton, MA, April 02, 2013 --(
PR.com
)-- An inspiring evening to eradicate growing teen suicide statistics.
Project Moves Dance Company, Inc., the resident company of The Gold School of Dance Art in Brockton, Mass., is proud to present I AM…when being yourself is enough. A follow up to the Company's groundbreaking hit shows…accept ME, Let it Be, One Human Race, and RETHINK, this mixed-arts, multimedia event celebrates the ever-challenging journey to self-love and self-respect. While the two performances will be held at Bridgewater/Raynham High School in Massachusetts on Friday, April 5, 2013 and Saturday, April 6, 2013 at 7:30 pm, the Company is airing a portion of the show for their supporters around the world. I AM…when being yourself is enough will air at 8:45 ET on Sunday, April 6th. Visit the Live Show tab at www.facebook.com/projectmoves to watch the 30-minute Live segment of I AM…when being yourself is enough.
According to the Center for Disease Control, nearly 1 in 6 high school students has seriously considered suicide, 1 in 12 has attempted it, and every 90 minutes a teenager or young adult is successful. The mission of the Project Moves Dance Company, Inc. is to advocate a message of acceptance and tolerance through dance art, as a way of combating teen suicide. The company is dedicated to creating a platform that empowers young dance artists with the knowledge, compassion and understanding necessary to create works that address the most pressing issues of today's youth, thus transforming the artists and their audiences.
The Company is made up of dancers ages 6 – 18, with its alumni including Kenny Wormald, star of the remake of Footloose, and dancers currently on Broadway in Billy Elliot and Newsies,. Company dancers like Noah Parets, age 13, experienced bullying first-hand because they were male dancers. His work with Project Moves Dance Company provided Noah the courage to join Billy Elliot – the Broadway Tour, as a professional artist, and was named the Junior Male Dancer of the Year in 2011 by the American Dance Awards. David Guzman, currently on Broadway in Newsies, performed in Project Moves Dance Company's original …accept ME show, and helped write and performed in the powerful depiction of the "Bully."
"Project Moves has inspired me to be apart of changing people's lives," said Kenny Wormald, star of the remake of Footloose. "Empowering people through art, which teaches acceptance through embracing individuality, is unparalleled. I wish when I was younger I had something like Project Moves. I'm proud to be a part of it."
I AM…when being yourself is enough weaves a series of stories together into a fabric of vivid, rich human emotion – from the warm memories of innocence, to the devastating effects of not "fitting in." Teens, their friends and families can tune in to the LIVE I AM show from the comfort of their own homes to become inspired to stop teen suicide around the world. To learn more about Project Moves Dance Company, visit www.ProjectMoves.org.