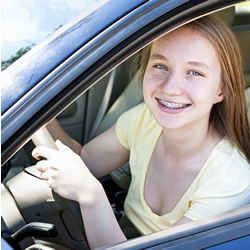 Orlando, FL, April 09, 2013 --(
PR.com
)-- Today the website SaferTeenDriver.com was relaunched with a new hazard perception evaluation and related
defensive driver training curriculum tailored for novice teen drivers
. The updated website incorporates best in class evaluation and educational services from BrightFleet.com, but adds a unique coaching guide to help parents and teens get the most from the training.
"We have spent years helping fleets improve their safety programs and reduce risk," said Bob O'Connor, the CFO of BrightFleet, "Now I have a teenage daughter who was having difficulty learning how to drive. She had learned the basic mechanics of driving, but lacked any real understanding of the hazards around her. It was as if she was driving in a bubble. Out of frustration I thought about applying the same hazard perception evaluation and related courses we had been using for several years with commercial fleets, but this time for her."
Teen drivers are most at risk of having an accident in their first year of driving. Car accidents are still the number one cause of death for teenagers, and injure or maim countless more. Novice teen drivers lack the experience to identify and understand the kinds of hazards that are common on the roads today. They tend to have poor situational awareness, and target-fixate on hazards that appear suddenly, instead of concentrating on maintaining an "out" if a potential hazard turns into an actual one.
"I found that my child responded very well to the training, given the additional guidance I was able to provide to help her understand how the training worked. She picked it up right away. She completed her evaluation, and was assigned a set of courses like proper use of mirrors, safe lane changing, and the other motorist to take," said Mr. O'Connor. "She completed her courses in about a week, and in the following ride-alongs with her I noticed a real improvement in her awareness. She was talking me through the potential hazards she was watching as we drove along. I was blown away by her progress in such a short period of time, and that's when I decided that we had to make this training available to parents and novice teen drivers."
Parents interested in seeing how this service can help their own soon-to-be or just licensed novice drivers can watch a short video explaining how it works. The training normally retails for $119.95 and includes access for both the parent and the teen driver, but during a limited introductory promotional period, new accounts can be purchased at a discounted rate of $99.95 by using the code "TheExtraMile" during the checkout process.
SaferTeenDriver.com is a service of BrightFleet.com, which is a service of Compendium Software Systems, LLC – a veteran owned small business located in Florida that focuses on tailoring advanced technologies into solutions that help prevent accidents, reduce risk, and save companies (and now parents!) money by improving the safety and efficiency of drivers everywhere.