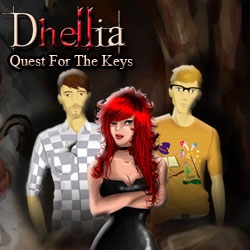 Los Angeles, CA, April 11, 2013 --(
PR.com
)-- What do you get when you put a Vampire, a Wizard, and Satan's Daughter, together?
Dhellia is a darkly funny, fresh and sassy, fast-paced series about a young woman whose birthright is the underworld - she's mad as Hell about it, and is determined to beat the Devil at his own game!
This Urban Fantasy book series takes on a completely new concept about Satan and his rebellious daughter, Dhellia. She may be the daughter of Satan, but Dhellia has a conscience. She's run away from Hell to escape her undesirable duties as princess of the underworld. A three-month road trip "upstairs" convinces her half-human side that Earth is where she belongs.
For readers who enjoy a fast-paced story geared toward the urban fantasy genre, they will definitely enjoy a well-written series that will take you on an emotional roller coaster of what it might be like to be the daughter of Satan with all the goodness of being a human being.
April M. Reign has written twelve novels in several different genres, including The Mancini saga, The Turning Series, The Disciples of the Damned Series and now, The Dhellia Series. She lives in Southern California and has been a writer for over twenty-five years. For more information about Dhellia: Quest for the Keys or The Dhellia Series, please visit www.aprilmreign.com, or contact her at april@aprilmreign.com
Social Media Sites:
twitter.com/aprilmreign
facebook.com/aprilmreign.author
pinterest.com/aprilmreign