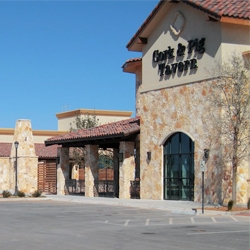 Odessa, TX, April 16, 2013 --(
PR.com
)-- The Sewell Family of Companies and Epperson Company announced the opening of Parks Legado Town Center this month. Parks Legado is a 65 acre mixed use development located on State Highway 191 in east Odessa. Collin Sewell, owner of the town center, is President of the 100 year old Sewell Family of Companies based in Odessa. Developer Don Epperson, is President of Dallas based Epperson Company.
Phase 1 of Parks Legado Town Center includes The Residence Inn by Marriott, Aim Bank and 27,000 square feet of restaurant and retail space. Notable tenants include Cork and Pig Tavern, The Egg and I, Joe James Salon and Day Spa, and Kenzington's Kloset. These businesses will be joined soon by Cavender's Boot City, Whitehouse Meat Market, Jersey Mike's Subs and more shops.
"For any business seeking investment opportunities in this economy, Odessa is the hidden gem they have been looking for," said Mr. Sewell. "We believe that Odessa will take itself to an entirely new level and Parks Legado Town Center is the cornerstone for that."
Parks Legado combines Mediterranean architecture with a tree lined Main Street, pedestrian walkways and jogging trail. The development is highlighted by the 24,000 square foot Plaza Park featuring a Spanish fountain, large stone fireplaces, gas lights and mature trees. The park is designed to serve as a venue for family gatherings and community events. "This is a place where people can come to dine, hang out and spend time with the family," said Mr. Sewell. "That's really the idea behind Parks Legado Town Center."
The 120 room Residence Inn by Marriott is the newest hotel to open in Odessa. "We teamed up with Dallas based Western International for this beautiful hotel that anchors the heart of the town center," said Mr. Epperson. "This June, Western International is scheduled to break ground on the Marriott Courtyard and Hilton Homewood Suites in Phase 2, giving us a total of 340 hotel rooms at Parks Legado."
Phase 2 will also include Sewell Volkswagen starting construction this summer, plus Sewell Ford-Lincoln, Great Texas Oil Change and restaurant pad sites. "We are also pre-leasing Parks Legado Office Plaza, our 37,000 square foot, Class A office building and an additional 20,000 square feet of shop space," Mr. Epperson added. "Upon completion Parks Legado Town Center will include over 500,000 square feet of businesses and will add over 150 jobs to the Odessa economy."
In 2011, the developers created economic investment agreements with the City of Odessa, Ector County and Odessa College District. "Parks Legado Town Center is truly a development for the community and we are grateful to our civic partners that helped make this possible," said Mr. Sewell. "Parks Legado is already becoming the new gathering place for West Texans to shop, dine, work and play."
About:
Odessa-Midland: According to the May 2012 Forbes list, Odessa is ranked #1 of US small cities for jobs, followed by Midland, ranked #2. Odessa's year-over-year employment growth is 9.8 % and Midland is 6.3%. With a combined population of over 275,000, retail sales are up over 22% and auto sales are up over 40% as compared to 2011. The Midland-Odessa Regional Economic Index rose 17.7% since March 2011.
The Sewell Family of Companies: Currently in its fourth generation, the 100 year old Sewell Family of Companies is lead by Collin Sewell. He leads over 275 team members in West Texas and oversees Ford, Lincoln, Volkswagen and General Motors franchises. The Sewell Family of Companies is committed to creating a valuable, quality way of life for the community. Mr. Sewell is active in many philanthropic events, including an annual fundraiser that has generated more than $1 million in donations over the past ten years for the local school district.
Epperson Company: With over 30 years of real estate development and consulting experience, President Don Epperson has managed over $1 billion in commercial development and the construction of 9.5 million square feet. Epperson Company's track record includes: mixed-use, retail, office, hospitality, residential, medical, and transit oriented development.
For additional information see: www.parkslegado.com
Contact Information: Don Epperson, President
Epperson Company
5000 Quorum Drive, Suite 500
Dallas, Texas 75254
(214) 244-3007