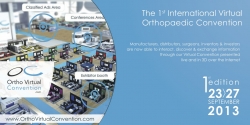 Orlando, FL, April 16, 2013 --(
PR.com
)-- VZION360, LLC announced today the launch of the first Annual "Orthopaedic Virtual Convention" (i.e. OVC) to be held live and online Sept 23-27, 2013.
This groundbreaking web based event is the only virtual symposium in Orthopedics. It features an outstanding agenda of scientists presenting online, daily (Sept 23-27), the latest clinical and technological trends in orthopaedics.
Dr. Antonio Castellvi, from the "Florida Orthopaedic Institute," heads OVC's Scientific Board. "What attracted me to the OVC platform," says Dr. Castellvi, "is its ability to reach tens of thousands of people in the US and around the globe, in the comfort of their home, practice, or company, while sharing important scientific data, in a fully interactive environment, using their smartphones, tablets or computers." He adds, "There is no doubt in my mind that this is the future of scientific communication; a borderless space of freedom in which the scientific community can interact freely, with no artificial limitations. Done well, it will positively impact orthopaedic surgery, helping patients from the richest parts of the world to the most challenged ones."
In addition to the scientific program and its 30 daily clinical and technological presentations, for the 5 days of the event, OVC also gives manufacturers, inventors, distributors and even investors the opportunity to rent a branded customized virtual 3D booth, to efficiently communicate with qualified prospects, new customers or strategic partners, for a portion of the cost of a regular event; all of this done without wasting precious time and money in logistical expenses such as plane tickets, hotels and restaurants.
Vivien Poujade, founder and CEO states, "The beauty of the OVC platform is its cost-effectiveness. Indeed, the Scientific Program is 100% free for all presenters as well as all attendees. The 'Exhibition Area' of the convention is also 100% free to all 'Visitors.' Only 'Exhibitors' are asked to make a minimal contribution for the rental of their customized booth. I personally believe that access to scientific data and business opportunities should be accessible to anyone, no matter their location or economic status. This is our goal!"
Mr. Poujade adds, "I invite everyone to visit our web site at
www.orthovirtualconvention.com
, watch the short 3mn video and register for the event today and for free."
About VZION360:
VZION360's is a developer of virtual multimedia technology platforms, dedicated to enhancing business & scientific communication capabilities between companies and their customers, improving the experience, accelerating decision-making, increasing revenues and positively impacting the community.