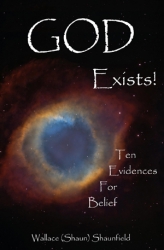 Boerne, TX, April 22, 2013 --(
PR.com
)-- GOD Exists! Ten Evidences for Belief is a book intended as an aid for use by a believer when discussing the existence of God with a non-believer. Ten different arguments for God's existence are presented, including ancient arguments, the fine-tuned universe, personal experiences, near death experiences and arguments based on modern scientific facts including recent DNA discoveries. Secular data and logic are used in the discussion without use of theological inputs.
It is clearly understood that a non-believer is not going to change their mind from a mere discussion about the subject of God. However, after Shaunfield's experience, who was a devout atheist that finally did take an objective look at the question and eventually realized the abundance of evidence for God's existence, there is hope for the skeptic. This book should stimulate the intellectual curiosity of a skeptic, so that they would seriously and objectively consider the possibility of God.
Possibly the most important features of the book are two of the evidences presented which are original with Shaunfield and are profound in that they also answer key questions posed by mankind for centuries. The first, the Non-Evolving DNA Argument, is discussed in Chapter 9, The Origin of Life. In this argument using a single, well-known secular fact and three simple logic steps, Shaunfield shows that the origin of life on earth was a supernatural event and therefore an act of God. This has two profound implications: 1) God set up the system of life and reproduction using the DNA coding system and 2) God does on occasion intervene in the universe. The complete Chapter 9 is available for review on the website below.
The second key argument, the Homo sapiens Argument, is presented in Chapter 10, Humans. The theory, Sapient Breakout, which Shaunfield developed in his first book, My God, Your God?, presents the story of human consciousness. It explains how consciousness was present in humans when they first evolved but it was partly suppressed until the Sapient Breakout about 10 thousand years ago. At that time, there began an explosion in human development which has continued until this day. As part of the theory, there are the following key discoveries, the realization that humans at the time of their evolution, about 200 thousand years ago acquired three attributes universal to all people around the world: a sense of a god, a moral code and a conscience. Shaunfield also shows this acquisition to be a supernatural event and therefore an act of God.
GOD Exists! Ten Evidences for Belief is available for sale online at Amazon and other channels.
About the Author
Wallace "Shaun" Shaunfield is a retired engineer and devout Christian. A former electrical engineer, Shaunfield was involved with the research, development and design of new optoelectronic semiconductor components including photo detectors, charge-coupled device imagers and lasers. A devout atheist for many years, Shaunfield eventually took an analytical and objective look at the question of God and became a Christian based on the evidence he discovered.