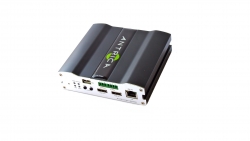 Bray, United Kingdom, April 18, 2013 --(
PR.com
)-- The Antrica ANT-35000 1080P60 encoder can stream video in various formats such as RTSP MPEG-TS and is fully ONVIF compliant. ONVIF is an industry standard which allows the Antrica ANT-35000 Encoder to be used with third party software decoder applications. The ANT-35000 is ideal for streaming PC or video content at 1920 x 1080 60Hz over an IP network or the Internet. At around US$1500 per encoder the ANT-35000 is a significantly lower priced alternative to broadcast encoders as it offers HD-SDI with embedded audio support. High quality AAC audio support at 64 and 128 kBits /sec stereo allows the ANT-35000 to provide an economical Video over IP solution where video and audio quality is critical.
Video may be viewed using third party software decoders, Antricas own Free 16 channel viewing/recording / playback solution for windows- TVMS. Also VLC player, WOWZA, Internet Explorer and our own hardware decoder (ANT-32000AS) can be used. Ipad and iphone ca use BUZZ player to view streams over wifi.
For more information please visit www.antrica.com and click on ANT-35000 or contact: Les Litwin at sales@antrica.com +44 1628 626098.