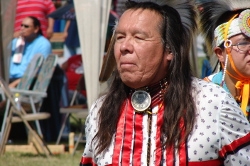 Sioux Falls, SD, April 19, 2013 --(
PR.com
)-- It took filmmakers Kelly and Tammy Rundle of Fourth Wall Films three years to complete their new documentaries "Lost Nation: The Ioway 2 & 3". The new documentary series continues where their award-winning "Ioway 1" left off, in 1837 when the Ioway tribe was forcibly removed from their ancestral homeland of Iowa to a reservation on the border of Nebraska and Northeast Kansas.
Filming took place in ten states, including South Dakota. Blood Run National Historic Landmark, located in southeastern South Dakota and northwestern Iowa along the Big Sioux River and Blood Run Creek, is featured in the documentary--as the Ioway were among several other tribes, including the Omaha, Oto, and Yankton Sioux, that once occupied the site.
Dr. L. Adrien Hannus, Augustana College Professor of Anthropology; Dr. Craig Howe, Director of the Center for American Indian Research and Native Studies; and Sicangu (Rosebud) Lakota writer, Tribal and Spiritual leader Albert White Hat, Sr. were interviewed for the film project, which received a grant from the South Dakota Humanities Council.
"It's always good to look at the past and remember that it does affect the future," said Ioway artist Reuben Ironhorse-Kent. "The ancestors did the best they could with what they had."
"Lost Nation: The Ioway 2&3" will be showcased at Augustana College on Sunday, April 21, 2013, 1:00 p.m.-4:00 p.m. at the Gilbert Science Center, Room 100, 2001 S. Summit, Sioux Falls, SD. Professor of Anthropology Dr. L. Adrien Hannus will join Ioway Reuben IronHorse-Kent of the Iowa Tribe of Kansas and Nebraska, and filmmakers Kelly and Tammy Rundle for Q&A following the films. The free program is sponsored by the South Dakota Humanities Council and Augustana's Anthropology Department.
The "Lost Nation: The Ioway 2&3" film project and public program was funded in part by a grant from the South Dakota Humanities Council (SDHC) and the National Endowment for the Humanities (NEH). Any views, findings, recommendations or conclusions expressed in these films and program do not necessarily represent those of the SDHC or the NEH.
The SDHC cultivates statewide interest in South Dakota history, literature and other related humanities subjects, while stimulating an interest in the state's place as part of the universal human experience. This programming vision forms the core mission of SDHC "to support and promote the exchange of ideas to foster a thoughtful and engaged society."