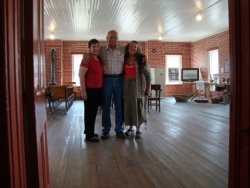 Lincoln, NE, April 22, 2013 --(
PR.com
)-- Dr. Ronald Naugle, Nebraska Wesleyan University Professor Emeritus of History, will take part in Q&A following a special Humanities Nebraska screening of the critically-acclaimed documentaries "Lost Nation: The Ioway 2&3" on Wednesday, April 24, 2013 at 7:00 p.m. at Nebraska Wesleyan University, 5000 St. Paul Avenue, Smith-Curtis Administration Building, Callen Conference Center, Lincoln, Nebraska. Refreshments will be provided by the Nebraska Wesleyan Forum Committee. The Humanities Nebraska event is Free to the public.
Dr. Naugle provided an on-camera interview for "Lost Nation: The Ioway 2&3" focusing on the history of Indian boarding schools, including the Genoa U.S. Indian Boarding School in Genoa, Nebraska where a number of Ioway children attended.
Emmy-nominated filmmakers' Kelly and Tammy Rundle of Fourth Wall Films visited Genoa with Iowa Tribe of Kansas and Nebraska Tribal Members Lyle Kirlin, Annie Assefa and Sarah James (pictured) and filmed the trio as they learned about their family members' experiences at the Indian boarding school.
The Rundles also interviewed Dr. Donna Akers, Associate Professor of History and Ethnic Studies at the University of Nebraska-Lincoln. Akers provided critical commentary on U.S. Indian policy, Indian Removal, and the reservation system, as well as other facets of U.S. colonialism and its effects on Native Americans.
In 1837 the Ioway were forcibly removed from their ancestral homeland of Iowa to a reservation on the border of Nebraska and Northeast Kansas. A split in 1878 led to the establishment of a second Ioway tribe in Oklahoma. Both tribes endured hardship and challenges to their traditions and culture to achieve successful land claims and self-determination in the 1970s. "Lost Nation: The Ioway 2 & 3" brings the dramatic Ioway story full circle.
"You are bound to be moved by these beautiful films. The Rundles expertly capture the oral history, the people you won't soon forget and their past that must not be forgotten," said Quad City Times Film Critic Linda Cook who gave the documentaries 4-out-of-4 stars.
The film project and public program were funded in part by a grant from Humanities Nebraska and the Nebraska Cultural Endowment. Any views, findings, recommendations or conclusions expressed in these films and program do not necessarily represent those of Humanities Nebraska or the Nebraska Cultural Endowment.
The Nebraska Humanities Council funds programs that explore Nebraska's heritage, build community awareness, and strengthen our ties to cultural traditions at home and abroad.