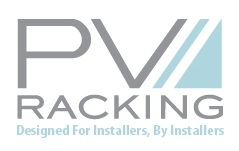 Southampton, PA, April 23, 2013 --(
PR.com
)-- PV Racking has finished the first quarter of 2013 with a new sales record. "We have received 1.4 megawatts worth of residential and small commercial contracts since January 1st, which is much stronger than this time last year," said Barry Moore, president at PV Racking, a Pennsylvania based racking and installation company. PV Racking provides racking nationally to solar installers for residential and small commercial projects under 500kW. Moore added, "At this rate, we expect to have another record year in sales."
PV Racking has recently joined forces with Taiwanese high performance module manufacturer WINAICO. Both companies are now based in the Southampton facility. "Our goal is to offer a total package solution to our customers. Offering racking and modules from a single source makes the buying process more efficient, cutting down on lead-times and shipping costs," says Maria Verros, Sales and Marketing Manager at PV Racking.
PV Racking, a Pennsylvania-based firm, specializes in designing and manufacturing solar racking systems for both roof and ground mount installations. It is a full service company offering their racking for sale to installers nationwide and their services for installing ground mount systems in the mid-Atlantic area.
For more information, please visit PV Racking at
www.pvracking.us
.