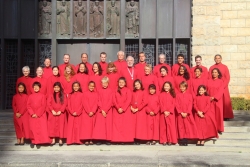 Honolulu, HI, April 24, 2013 --(
PR.com
)-- The Hawai'i Sacred Choir presents its spring concerts this weekend in Honolulu, Hawai'i.
· April 27 (Saturday), 3:00 p.m., Co-Cathedral of St. Theresa, Honolulu, Hawai'i
· April 28 (Sunday), 5:30 p.m., Cathedral of St. Andrew, Honolulu, Hawai'i
Admission is Free. A freewill offering will be collected to benefit the choir's tour to England in 2014.
The spring concert program is wide-ranging, from Exsultate Justi, a Latin piece by Ludovico da Viadana (1560-1627), to Howard Goodall's contemporary arrangement of "The Lord is My Shepherd" (heard by many as the theme song to The Vicar of Dibley).
The Hawai'i Sacred Choir is Hawai'i's only choir to use treble choirboys and choirgirls singing with adults in the British cathedral style. As members of the UK-based Royal College of Church Music, they are the only internationally adjudicated choir in Hawai'i.
Selected by England's prestigious Ely Cathedral to sing as their holiday "choir in residence" July 7-13, 2014, the Hawai'i Sacred Choir will represent Hawai'i as choral ambassadors to England as they sing Ely Cathedral's daily services for a week.
The timing is historically significant, since 2012 was the 150th anniversary of the founding of the Anglican Church in Hawai'i, invited by King Kamehameha IV and Queen Emma. It was these sovereigns' dearest wish that Hawai'i's future generations sing the sacred choral music that was a highlight of their recent tour of England. Now the Hawai'i Sacred Choir is fulfilling that wish by sending men, women and children of our current generation back to England in the Hawai'i Sacred Choir to sing this music in an English cathedral.
The Hawai'i Sacred Choir invites the Honolulu community to hear the spring concerts in Honolulu and to consider joining the choir for their 2014 tour of England. In order to extend to the community the opportunity to sing in the Hawai'i Sacred Choir and tour England, there will be open auditions to every member of the Honolulu community from age 8 through adults during the months of May and June, 2013. Auditions will close on July 1, 2013.
The Hawai'i Sacred Choir hopes to have audiences fill both cathedrals on both concert days to hear selections from the world's most beautiful sacred choral music.
For further information, please contact the Hawai'i Sacred Choir
www.hawaiisacredchoir.org
Email us at hawaiisacredchoir@hawaii.rr.com
Like us at Facebook https://www.facebook.com/pages/Hawaii-Sacred-Choir/118913648160919
Call us at 808-220-6969