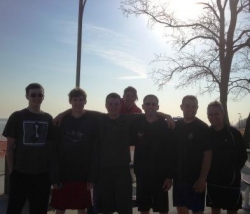 Matawan, NJ, May 09, 2013 --(
PR.com
)-- Ready, Set, Go! Run 5 miles, mostly in mud, jump into 12' of murky water, swim & go under barrels in those murky waters, traverse obstacles such as walls, cargo nets, monkey bars, telephone pole sized ladder, cross over water on a cable and, oh yeah, crawl under wires so low your face will plunge into the mud. That is exactly what a group of local residents consisting of men, women, college & high school students from all walks of life & fitness levels plan to do to raise money for The Union Beach Disaster Relief Fund.
John Arena, owner of a local martial arts school, The Martial Arts Arena, is organizing the fundraising effort for The Union Beach Disaster Relief Fund. Team TMAA was created to get people together for the cause and complete the Rock Solid Mud Run on June 15th at Raceway Park, Englishtown, New Jersey.
Arena stated that the Team came together soon after being approached by Erin Matsko, local resident and member of The Martial Arts Arena's 45 Minute Solution Fitness Program. Matsko asked Arena if he would be interested in doing the mud run. Both quickly decided the best course of action was to do it to help others. Arena started to talk about it in classes and quickly a team of 20 had emerged. The Union Beach Disaster Relief Fund was the natural choice for the Team. Matsko has been instrumental and the spark for this effort according to Arena.
Members include local high school students Michael Betancourt, George Byard, Nick Manzi, Sean Sullivan, Trevor Wood and college student Adam Krissow. Krissow, Manzi and Sullivan also teach or assist with classes at The Martial Arts Arena. Arena said all 3 are great role models for the children in our programs. Other members of the Team include Connor Daukshus, Concetta Seblano, Denise Karlan, James Krause, John Foley, Kyle Kulper, Rochelle Leventhal, Stephen Gallatta, Rohit Chartath, Sheetal Malhotta, Elizabeth & Kevin Patterson, Karen Rubinstein, Rique DeSousa, as well as Matawan Starbucks barista, Ryan Sanberg. Sandberg will be serving in the Marines starting in the fall 2013. Arena stated all members of Team TMAA are inspirational for many reasons and he especially admires the moms that work full time, managed their homes, and make the time to exercise. Arena also mentioned that DeSousa is a great inspiration for anyone who thinks its too late to change your lifestyle. DeSousa started his martial arts career at time when most start to slow down. DeSousa even manages to volunteer his time to assist with classes.
Sandy was an inconvenience for many, stated Arena, 2 weeks of no power, no gas, no hot water. For residents of Union Beach, Sandy has been life altering because it has significantly impacted a basic human need- shelter. Arena stated that so much is done to help people in need all around the world. He is reminded to help thy neighbor. Union Beach is our neighbor. And after 170 days our neighbors are still in need.
It's all about fundraising for The Union Beach Disaster Relief Fund. And Arena said they are still accepting individuals to join Team TMAA. Each member of Team TMAA is committed to raise $100. Anyone that wishes to sponsor Team TMAA or a specific Team member can contact Arena. Anyone that donates $69 can train for free at The Martial Arts Arena up until the day of the event. The Martial Arts Arena is also donating proceeds from T-shirt sales to commemorate the event.
The Martial Arts Arena is a martial arts school that offers a variety of programs for all ages. Parents rave about their age specific and unique Lessons for Life Character Development Program. Giving back to the community is an essential part of Arena's philosophy and programs. Other programs offered for teens and adults are traditional Martial Arts, Muay Thai Kickboxing, and The 45 Minute Solution & iBody Fitness Programs.