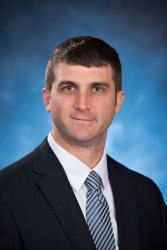 Phoenix, AZ, April 25, 2013 --(
PR.com
)-- Dr. Shelden Martin, an orthopedic surgeon with one of the Valley's leading orthopedic practices, OrthoArizona - Arizona Orthopaedic Associates, has been named team physician for the Arizona Rattlers of the Arena Football League.
Dr. Martin, who is fellowship trained in sports medicine and shoulder/elbow surgery, will perform all team physician duties for the Rattlers for the 2013 season.
"I'm honored to be chosen for this position," said Dr. Martin, who completed his fellowship at OrthoCarolina in Charlotte, North Carolina. "Sports medicine is a passion of mine and I'm proud to be part of the Rattlers organization."
Previously, Dr. Martin served as part of the team medical staffs for the Carolina Panthers, Charlotte Knights, Joe Gibbs Racing Team and the University of North Carolina.
Dr. Martin is a board eligible orthopedic surgeon who received his bachelor's degree in chemistry and biology from LaSalle University in Philadelphia. He performed research at the University of Pennsylvania that led to the discovery of the gene responsible for a rare genetic bone disease.
Dr. Martin graduated from medical school at Georgetown University and received his residency training at Loyola University Medical Center in Chicago.
OrthoArizona - Arizona Orthopaedic Associates surgeons have been named "Top Doctors" for the past 15 consecutive years by Phoenix magazine. The group is the state's leader in anterior hip replacements with more than 1,500 procedures completed.
Dr. Martin and Dr. Jonathan Fox recently merged their independent orthopedic practices in Chandler with OrthoArizona - Arizona Orthopaedic Associates and operate as the group's east Valley location. Both surgeons bring extensive hip, knee, shoulder and ankle arthroscopy and joint replacement experience to the practice, said Dr. David Ott, President of OrthoArizona - Arizona Orthopaedic Associates.
"They're well-respected by their peers and their patients," Ott said of the practice's two newest surgeons. "We're pleased to add them to our practice."
Fox and Martin join a staff that already includes Ott, Dr. Robert Berghoff, Dr. Michael Domer, Dr. Douglas Hartzler, Dr. Michael Wilmink, Dr. Delwyn Worthington, Dr. William Salyer and Dr. Glen Bair.
For more information on OrthoArizona - Arizona Orthopaedic Associates, please call (602) 631-3161 or visit www.aoa.md. Find out more about Arizona Orthopaedic Associates on Facebook at www.facebook.com/aoaatgateway and Twitter at www.twitter.com/aoaatgateway.
About OrthoArizona - Arizona Orthopaedic Associates
OrthoArizona - Arizona Orthopaedic Associates strives to improve the quality of life of our patients and their families through outstanding orthopedic care. OrthoArizona - Arizona Orthopaedic Associates is committed to excellence by pledging to provide the highest quality of orthopedic care possible. Along with the treatment of immediate or chronic problems, top-rated and board-certified orthopedic surgeons strive to integrate the doctrine of prevention in all treatment plans as a way to alleviate possible future difficulties.