PROLIM Corporation President Receives "Leaders & Innovator Award"
PROLIM Global Corporation, an IT, PLM and Engineering services consulting firm is pleased to announce today that PROLIM Corporation President Prabhu Patil receives "Leaders & Innovator Award" on April 25, 2013 at Lawrence Technology University sponsored by University, Grant Thornton, WWJ-950 Radio and Technology Report.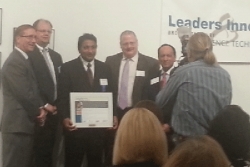 Southfield, MI, April 28, 2013 --(
PR.com
)-- The Leaders & Innovators program was developed in 2005 by Lawrence Tech to recognize Michigan business executives who are engaged in cutting-edge professions and industries expected to be key to Michigan's economic future.
The award was announced at a reception Thursday night at Lawrence Technological University, which co-sponsors the annual award, along with Grant Thornton LLP and WWJ Newsradio 950.
Lawrence Tech President Virinder Moudgil congratulated Prabhu Patil and the honored as embodying the American spirit of innovation and entrepreneurship.
The WWJ 950 News Radio of "Technology Report" by Matt Roush quotes "Prabhu Patil's expertise in product-lifecycle management allows him to advise Fortune 500 companies in the automotive, aerospace, and technology industries and has given him significant experience in mergers and acquisitions. With three-year business revenue growth of more than 1,300 percent, PROLIM placed No. 278 on the 2012 Inc. 500 list. Under Patil's leadership, PROLIM recently acquired Able Design Engineering Services (P) Ltd. of India and announced a strategic partnership with Germany-based CAD 'N ORG Engineering and Consulting GmbH to expand its global expertise. The firm works closely with Oakland University and universities in India to teach product-lifecycle management technology and provide hands-on opportunities.
A certified member of the National Minority Supplier Development Council, PROLIM also belongs to Automation Alley and the Detroit Regional Chamber. Previously, Patil held positions at Siemens, EDS, and served as a scientist in India's Ministry of Defense. Patil is a director of PLM World, Siemens worldwide user group, and a member of the Project Management Institute. He also served as president of the spiritual nonprofit Veerahaiva Samaja of North America's Detroit chapter and currently is on the national organization's board. Patil received his bachelor's degree in engineering from the University of Mysore and his master's in engineering from PSG College of Technology, both in India. He also received his MBA from the University of Michigan."
Lawrence Technological University, http://www.ltu.edu, is a private university founded in 1932 that offers more than 100 programs through the doctoral level in its Colleges of Architecture and Design, Arts and Sciences, Engineering, and Management. Bloomberg Business week lists Lawrence Tech among the nation's top 20 percent of universities for return on undergraduate tuition investment, and highest in the Detroit metropolitan area. Lawrence Tech is also listed in the top tier of Midwestern universities by U.S. News and World Report and the Princeton Review. Activities on Lawrence Tech's 102-acre campus include over 60 student clubs and organizations and a growing roster of NAIA varsity sports.
About PROLIM Corporation
PROLIM is a leading provider of end-to-end IT, PLM and Engineering Services and Solutions for Global 1000 companies. They understand business as much as technology, and help their customers improve their profitability and efficiency by providing high-value technology consulting, staffing, and project management outsourcing services.
Their IT and PLM consulting offerings include; Advisory, PLM Software/Services, Program Management, Solution Architecture Training/Staffing, Cloud Solutions, Servers/Networking, Infrastructure, ERP Practices and QA Services. Engineering services include Data Translation, CAD/CAM/CAE, Process & Product Engineering, Prototyping, and Testing/Validation within a wide range of markets and industries.
Contact
PROLIM Global Corporation
Lisa Smith
888-9-PROLIM
www.prolim.com
30445 Northwestern Hwy, Suite 380,
Farmington Hills, MI 48334
Fax: (800) 515-6821
Email: info@prolim.com

Contact