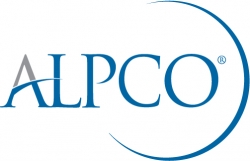 Salem, NH, May 01, 2013 --(
PR.com
)-- ALPCO is pleased to announce the launch of their new Human Osteopontin ELISA. This assay is the first in a new line of species-specific Osteopontin ELISAs that will be released by ALPCO in the coming months. The Human Osteopontin ELISA is provided with a qualified kit control and can be performed with only 10 μL of plasma and urine, with results in just 3 hours.
"We are proud to be launching the first assay in this new line of species-specific Osteopontin ELISAs," comments ALPCO President, Sean Conley. "Many of our customers have been searching for a high quality kit that can measure this analyte, and we're thrilled to be able to provide it to them."
Martin Blankfard, VP of Scientific Operations at ALPCO adds, "Our Research and Development team has worked hard to produce this line of Osteopontin ELISAs and I'm confident our customers will feel those efforts have paid off. Researchers will appreciate they can run this assay with a small sample volume and in less time than most other Osteopontin kits on the market."
Click
here
to learn more about the new Human Osteopontin ELISA from ALPCO.
About ALPCO
ALPCO (American Laboratory Products Company) was founded in 1991 as a provider of immunoassay kits for the North American research markets. ALPCO's mission is to offer unique product solutions that appeal to a diverse set of customer needs, while providing exceptional customer service and product support.
www.alpco.com