Electronic Cigarette Company Scoops Two Awards from Reviewboard
Electronic cigarette supplier Totally Wicked has been awarded both the 2013 Editor's Choice Award and the 2013 Reviewboard Best Buy Award.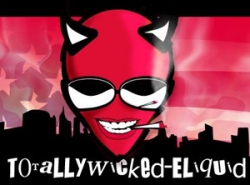 Bradenton, FL, April 30, 2013 --(
PR.com
)-- The e-cig specialists impressed the review website with their consistently excellent products and the high quality customer service that they experienced.
Totally Wicked, operating out of its Florida headquarters began life in England before spreading further afield. The company prides itself on producing the best electronic cigarette devices and e-liquids for the public at great prices.
Reviewboard orders products and services anonymously to guarantee that they are not awarded any special treatment. The review site then put Totally Wicked's customer service team to the test by changing their order at the 12th hour.
Phillip Ferreira of Reviewboard enthused: "I can't tell you enough about their service and products. I owe a debt of gratitude to TotallyWicked-Eliquid.com because through this review I got my wife to test out the
e cigarettes
. She went from spending $200 a month on Newport Light 100′s to spending about $40-$50 a month on e-juice (liquid nicotine) and various e-cig paraphernalia. It's saved us a lot of money.
"Totally Wicked-Eliquid is the best e-tailer of
e-cigs
that we could find on the Internet. We looked at 35 different websites, monitored their inventory, and purchased or received products from them to make this decision."
Totally Wicked's Stacey Cropper voiced the companies pride at winning the award:
"Totally Wicked strives hard to provide top quality Client Service and quality products. As the e-cig industry grows and evolves we also aim to educate and guide our customers towards the best product to suit their need.
"We are delighted to win these two awards and to see our efforts recognize by Reviewboard."
Reviewboard has operated since 1997 reviewing products and services from a wide range of industries and sectors in plain English avoiding the use of jargon. Reviewboard prides itself on its thorough research before committing to appraisals, using a product for several months before putting pen to paper. The review site is particularly famed for its well-known annual Holiday Buyer's Guide.
About the Company: Based in the UK; Totally Wicked supply high quality Electronic Cigarettes throughout the UK, US and mainland Europe.
Contact
Totally Wicked USA
Stacey Cropper
1-888-761-9425
http://www.totallywicked-eliquid.com/

Contact