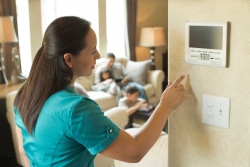 Houston, TX, May 01, 2013 --(
PR.com
)-- Taylor Morrison has given Houston home buyers another reason to consider the home builder's innovative Interactive Home concept - free upgrades to the area's industry-leading connected home system.
From now until May 31, home buyers who choose a Taylor Morrison home with Interactive Home system will also receive three free upgrades - a Prestige thermostat with interview-based programming, a smart device charging station and an exterior coach light that can be controlled by the Interactive Home system.
"You could say the smartest home on the block just got smarter," said Jim Ellison, vice president of sales for Taylor Morrison Houston. "With the addition of these free upgrades, homeowners will be able to remotely program the temperature of their home and turn their exterior lights on and off with any smart device."
The Prestige thermostat features all-in-one controls that include a dehumidification system, outdoor air sensor and remote access from any smart device.
With the free coach light upgrade, homeowners can remotely turn their exterior lighting on and off while they are away from their home and also program their lights to turn on at dusk and off at dawn - an added safety measure for any Houston family.
And charging smart devices is much easier with the upgraded charging station, which charges up to three smart devices at the same time while helping to reduce clutter.
For more information on Taylor Morrison's Huston communities, please visit www.taylormorrison.com.
About Taylor Morrison
Taylor Morrison focuses on delivering homes that are smart, efficient, comfortable and designed to fit the lifestyle of its home buyers. First-time buyers, families, and active adults in Arizona, California, Colorado, Florida and Texas can expect to find homes that fit their needs, built and sold by people who know the communities they live and work in. Building experience, along with customer feedback and inspiration from everyday people, create Taylor Morrison communities that offer value to home buyers. For more information on Taylor Morrison, please visit www.taylormorrison.com.