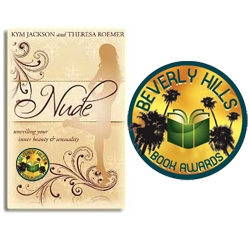 Houston, TX, May 03, 2013 --(
PR.com
)-- Indie Excellence award-winning author of the book, Nude: Unveiling Your Inner Beauty and Sensuality, Theresa Roemer, has just bagged another award for the same book. This time it is the
2013 Beverly Hills Book Award
and her book is the winner in the Sexuality category. The book is a guide on relationships, beauty and sensuality. It truly is what every woman needs and is looking for – practical advice on love, intimacy and attractiveness.
Speaking about the book, Theresa says, "Whether she's just out of college, a single parent back on the dating scene or a married mother of three, today's woman secretly desires to take her intimate relationships to the next level. 'Nude: Unveiling Your Inner Beauty and Sensuality' makes a great gift for a girlfriend, sister, bride or yourself. The book focuses on letting go—of inhibitions, fears, doubts, stresses and worries. Women can learn how being physically fit, nutritionally healthy and having a beauty regime that helps radiate sensuality can bring about a significant change in their lives."
A team of publishing industry professionals including publishers, editors, writers and book cover designers judged submissions for the 1st Annual National Beverly Hills Book Award. The books were judged for overall excellence in book presentation, taking into consideration the cover design, interior layout, and aesthetic components. Winners were chosen across a variety of popular categories like fiction, memoirs, mystery and romance, as well as more specific genres of true crime, sexuality, women's health, sales and more. This national award, based in Los Angeles, CA is open to all English language books in print.
"We are so proud to announce the winners from our inaugural year," said awards sponsor, Ellen Reid. "These books will be a favorite on bookshelves for years and years to come."
About Theresa Roemer:
Beauty and fitness pioneer Theresa Roemer has previously owned and operated her own health clubs, mentored young girls in the highly acclaimed Barbizon Modeling Schools and her fitness talents have been utilized by a top fitness chain in the country. She has authored the Indie Excellence and Beverly Hills Book Award winning book, Nude: Unveiling Your Inner Beauty and Sensuality. She is an active spokesperson for the American Heart Association, Texas Children's Hospital and is a board member for Child Legacy International. In recent months, Theresa has been busy with speaking engagements on fitness and nutrition; sponsoring fundraising events for the American Heart Association; filming interviews, and promoting her new line of designer candles and signature truffles.