17 Amazing Insights Into What Mothers do for Us and What Mothers Love in Return
Changing 7,300 diapers and wrestling bears; that's just what mothers do. In return, we want to know what mothers love as a show of everlasting gratitude.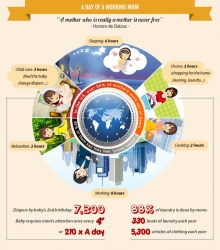 Los Angeles, CA, May 08, 2013 --(
PR.com
)-- Even with 2 billion moms in the world raising 4.3 newborn babies every second, many of us have no idea the magnitude of their sacrifice and the scope of what mothers do for us not only on an everyday basis, but throughout our lives.
The length mothers go in making sure we are happy and provided for has no bounds. From doing 88% of our laundry to spending an average of 5 hours a day cooking, cleaning, and grocery shopping, there is truly no way to reciprocate all they have done for us.
With the average cost of raising a child to the age of 18 being $242,000, it's no wonder that 60% of U.S. moms work from home. With that in mind the old adage "Time is money" is never more appropriate than for a mother.
For instance the average baby must be attended to every 4 minutes. That includes 3 hours for just feeding and diaper changing. Not the most glorious of tasks, but essential nonetheless. Without mothers, it's obvious that things would get ugly, and fast.
What mothers do with their time and money is extraordinary, but some super moms have laid their lives on the line. There was once a Canadian mother who wrestled away a bear to protect her kid. That's one committed mama!
So that begs the question how can we repay our mothers for all they do? Recent research has given insight into what mothers love to receive in return. Not surprisingly, mothers would rather have a day at the spa or a picnic with their family over an expensive diamond necklace anyday.
To show your mother the type of appreciation she deserves and wants, here are a few articles to great ideas that any mother would love: "10 Mother's Day Gifts for Under $10", "7 Mother's Day Brunch Ideas" at PromoCode4Share's blog.
About Promocode4share:
PromoCode4Share is a service provided by MegaAds. PromoCode4Share's direct relationship with retailers and affiliate networks allows them to offer the best available coupon codes and deals from a plethora of online stores. Aside from helping consumers find these great deals, the site also lets you compare prices, gives useful shopping tips, recommends products, and provides an overall engaging and fun web surfing experience. To check out this site go to PromoCode4Share.com
Contact
Megaads Ltd.
Thuy Do
+841685276616
http://promocode4share.com

Contact